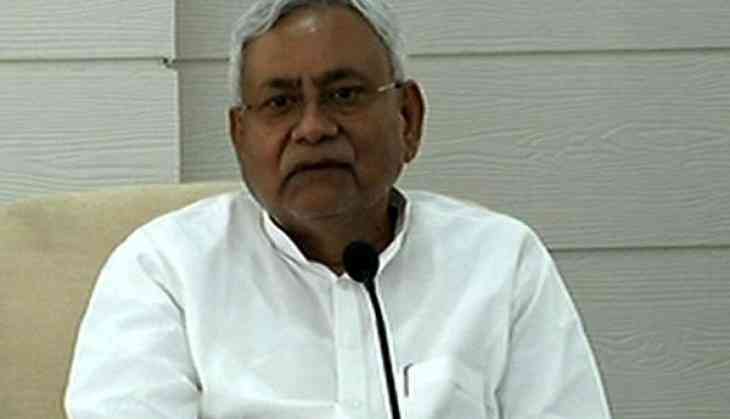 One person was arrested by police after he threw slippers at Bihar Chief Minister Nitish Kumar on Thursday.
Nitish was speaking at a youth conference of the Janta Dal United here in Patna. Prashant Kishor, the poll-strategist and campaigner, who recently joined the JDU was also present in the event at the Bapu Sabhagar when the incident took place.
The person was identified as Chandan Kumar, who was from Aurangabad and told the police that he was angry over the reservation quota given in the state.
He said that he was "suffering as he belonged to the upper caste" and "due to reservations he is unable to get a job."
Chandan Kumar was allegedly thrashed by the youth workers of the JD(U) until police came for rescue and took him away.
For the last couple of weeks, CM Nitish Kumar had been touring the states, interacting with different sections of his party. Last Sunday Nitish Kumar attended a meeting of the women's cell of JD(U) and in the week before that he addressed a meeting of Maha Dalits in Patna.
The BJP-led NDA government is facing the flak from the upper castes due to the Scheduled Castes and Scheduled Tribes Atrocities Act. The state saw widespread protests last month, when normal life was hit.
This is not the first time that a shoe was thrown at the Chief Minister and JD(U) supremo. In 2016, a man, identified as PK Rai, was arrested for hurling a show at the Chief Minister in Patna.
Also read: UP CM Yogi Adityanath grants Rs 260 crore to Hindu 'Akhadas' ahead of Kumbh Mela 2019
#Bihar: Slipper hurled at CM #nitishkumar in Patna https://t.co/aTIHxk0vsj pic.twitter.com/Cwf5ROU4JC

— India TV (@indiatvnews) October 11, 2018