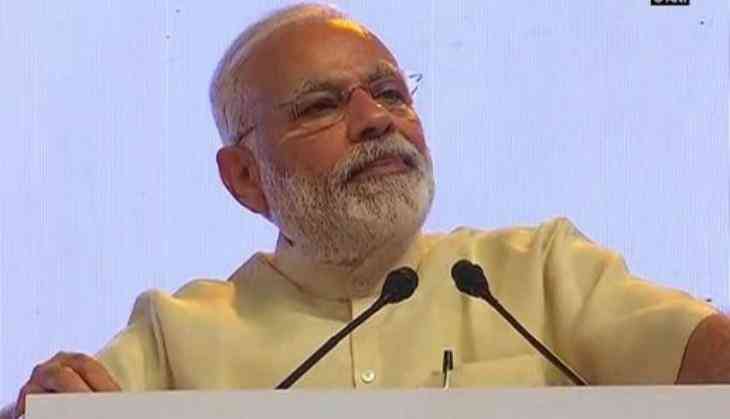 'Benefits of projects will help our youngsters': PM Modi (ANI)
Prime Minister Narendra Modi on Friday inaugurated six thermal power plants in Maharashtra and said his government is committed to revitalizing the energy sector, especially the renewable energy sector.
Of the six plants inaugurated, three super-critical units of 660 MW each are located in Koradi, two of 500 MW each at Chandrapur and one of 250 MW at Parli.
Highlights from Prime Minister Modi's thermal power plants;
- Delighted to be here on #AmbedkarJayanti. I am honored to have got the opportunity to pray at Deekshabhoomi: PM Modi
- Dr. Ambedkar did not have a trace of bitterness or revenge in him. This was is specialty: PM Modi
- Energy sector is of great vitality in the 21st century: PM Modi
- One of the sectors towards which we are devoting significant effort is the renewable energy sector: PM Modi
- People of India gave their lives so that India attains freedom. Our freedom is the result of the sacrifices made by several greats: PM Modi
- Each and every Indian must have his or her own house. And that house must be equipped with electricity, water & other facilities: PM Modi
- Benefits of the projects inaugurated today will help our youngsters: PM Modi
- The BHIM App is positively impacting several lives across the nation: PM Modi
- This DigiDhan movement is a Safai Abhiyan. It is to fight the menace of corruption: PM Modi
The Prime Minister also released two special commemorative postal stamps - one depicting Deekshabhoomi in its full glory and the other with twin pictures of Lord Gautam Buddha and Dr. Babasaheb Ambedkar at another function in the city. The two stamps of five rupees denomination each along with the first-day cover would be released on this occasion.
Maharashtra Governor Chennamaneni Vidyasagar Rao, Chief Minister Devendra Fadnavis along with Union Minister for Road Transport, Highways and Shipping Nitin Gadkari and Minister for Human Resources Development Prakash Javadekar were also present on this occasion.
-ANI