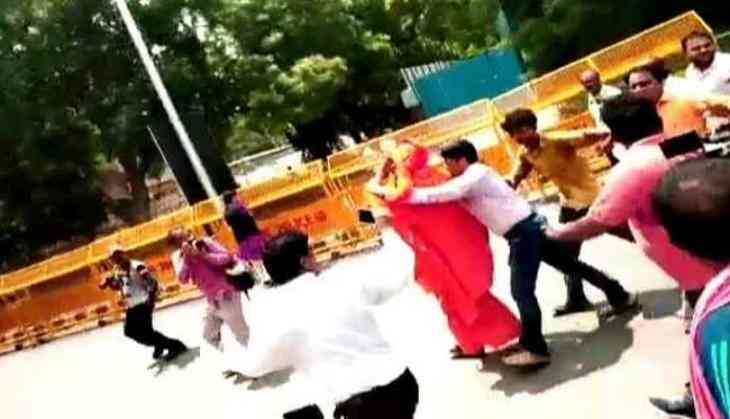 Social activist Swami Agnivesh was allegedly attacked by a mob today near BJP office in Delhi. Agnivesh was on his way to pay his last respects to the former Prime Minister Atal Bihari Vajpayee. However, this is the second attack on Agnivesh in a month. Earlier, 79-year-old Agnivesh was beaten up by a mob including BJP's youth workers.
"I had gone to pay my respects to Vajpayee ji. Because of the police pickets, I had to walk down the last stretch... suddenly a group of people came and attacked us. There were two-three of us and they were quite a few. They beat us badly, pushed us around, abused us and knocked off my turban," Mr Agnivesh said. "They kept shouting 'he's a traitor, he's a traitor, beat him'," he added.
In a video recorded in a mobile phone of the alleged attack, it can be seen the saffron-robbed Swami Agnivesh being chased, heckled and pushed by a group of people as he keeps walking and trying to protect himself. His headgear is yanked by one man and a woman is seen holding her slipper as if to beat him.
Agnivesh was on his way to pay his last tribute to the three-time Prime Minister Vajpayee, one of the tallest leaders and also referred as Bhishma Pitamah of Indian Politics. Atal Bihari Vajpayee died at the age of 93 in AIIMS after suffering from prolonged illness. Vajpayee's final journey from the party headquarters will start around 1 pm and the cremation of the great leader will be done at Vijay Ghat, near Rajghat, at 4 pm.
Also read: Atal Bihari Vajpayee Funeral: Former PM Vajpayee's mortal remains brought to BJP Headquarters; cremation at 4 pm at Vijay Ghat