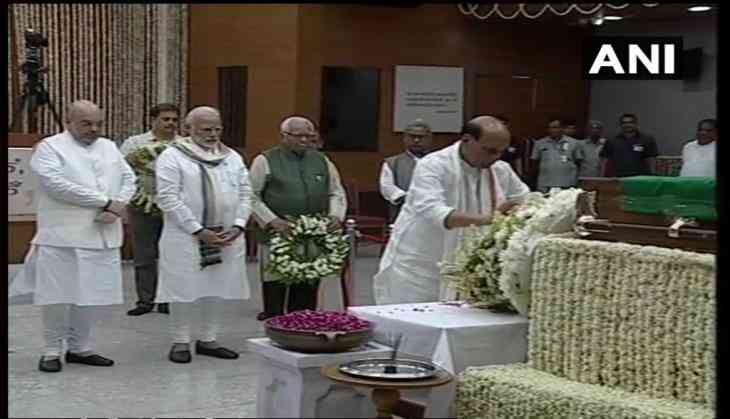 Atal Bihari Vajpayee's mortal remains brought to BJP Headquarters. His cremation will be done at 4 pm at Vijay Ghat. Well, a seven-day nationwide mourning has been declared till 22nd August. The last journey of the statesman and tallest leader of the current ruling party in the Centre has begun.
Vajpayee's final journey from the party headquarters will start around 1 pm and the samadhi of the great leader will be done at Vijay Ghat, near Rajghat, at 4 pm. On his funeral, several roads in Delhi would be restricted for the Delhiites. A huge crowd of people have also joined the procession. People are chanting 'Atal Bihari amar rahe' and 'Vande Mataram'.
Delhi: Prime Minister Narendra Modi pays last respects to former Prime Minister #AtalBihariVajpayee at BJP Headquarters. pic.twitter.com/HfqBe0xdcP

— ANI (@ANI) August 17, 2018
The procession of Atal Bihari Vajpayee will pass through Pt Deen Dayal Upadhyay Marg, Bahadur Shah Zafar Marg, Delhi Gate, Netaji Subhash Marg and Shanti Van to reach Rashtriya Smriti Samadhi area where the BJP leader will be cremated at 4 pm.
The three-time Prime Minister and Bharat Ratna Awardee, Atal Bihari Vajpayee on 16th August, a day after Independence Day, the whole country mourns his loss.
Atal Bihari Ji was the first head of government from mon-Congress party to serve a full five-year term as a leader of the Bharatiya Janata Party. Vajpayee was elected to Lok Sabha from Lucknow in 1991, 1996, 1998, 1999 and 2004.
Mr Bihari is a Padma Vibhushan awardee. He is also a recipient of India's highest civilian honour, the Bharat Ratna, which was conferred on him in 2015.
Also read: Atal Bihari Vajpayee will be remembered for improving India-Pakistan relationship,' says Imran Khan