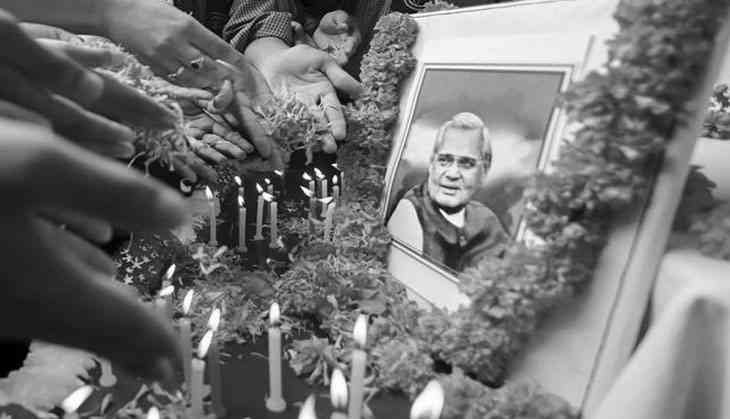 The former Prime Minister Atal Bihari Vajpayee was cremated at Smriti Sthal with full state honours by his adopted daughter Namita Bhattacharya who lit the funeral pyre.
The poet-politician was given a gun salute on the banks of the Yamuna in Delhi in the presence of PM Modi, Amit Shah, Rajnath Singh, Nirmala Sitharaman.
In 2004 Lok Sabha elections Atal Bihari Vajpayee had given an affidavit in which total movable assets were 30 lakh 99 thousand 232 rupees, and as the former PM he got a monthly pension of Rs 20,000 and he got Rs 6 thousand as office expenses.
According to the affidavit, Atal has a flat in Delhi's East of Kailash. Apart from these assets, he has an ancestral house. Although no such motive of Atal Bihari Vajpayee has yet come to light, it is believed that Atal's property will be given to his adoptive daughter and son-in-law.
#WATCH live from Delhi: Last rites ceremony of former Prime Minister #AtalBihariVajpayee at Smriti Sthal https://t.co/HbeppXjsPz

— ANI (@ANI) August 17, 2018
If you talk about the relatives of Atal Bihari Vajpayee, then his niece Kanti Mishra and Nagesh Karuna Shukla are in Gwalior. His nephew's name is Deepak Vajpayee and Anup Mishra, who is an MP. Apart from this, when Atal reached Delhi's 7 Race Course in 1998, his friend Mrs. Kaul's family also came to live with him.
Vice-President Venkaiah Naidu, Former PM Manmohan Singh, RSS chief Mohan Bhagwat, senior BJP leader LK Advani, Congress President Rahul Gandhi were present at Smriti Sthal in Delhi in the funeral of Ex-PM. King of Bhutan Jigme Khesar Namgyel Wangchuck pays last respects to former PM Vajpayee.
Veteran BJP leader died on Thursday after suffering from prolonged illness and was admitted to the AIIMS on 11 June following kidney tract infection, urinary tract infection and low urine output. He died on Thursday evening at 5:05 pm. The death of Vajpayee's was confirmed by the All India Institute of Medical Sciences on Thursday evening.
A seven-day nationwide mourning till August 22 for three-time Prime Minister Atal Bihari Vajpayee has been declared. Delhi schools and government offices have been closed today. Former Prime Minister Atal Bihari Vajpayee was also referred as Bhishma Pitamah of politics.
Also Read: Atal Bihari Vajpayee Funeral: Former PM Vajpayee cremated with full state honour's; last rites performed by his adoted daughter Namita Bhattacharya