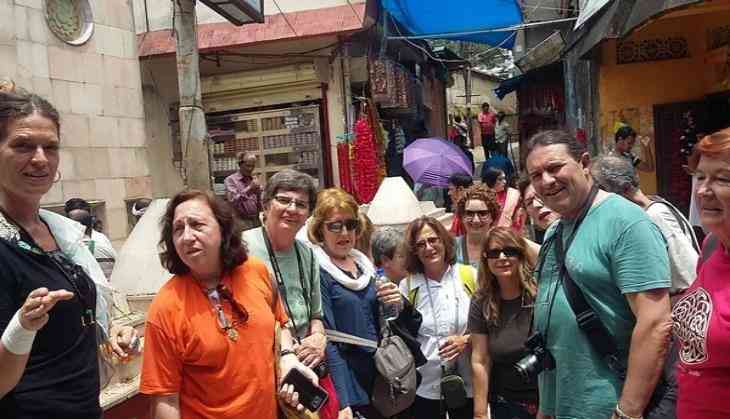 Thousands of devotees made a beeline for the famous Kamakhya Temple here in Assam on Tuesday, but what drew everyone's attention was drawn to the presence of a 200-member Azerbaijan group.
The citizens of Azerbaijan were extremely happy to be the focus of attention.
One elderly woman told ANI that about 200 of them are on a visit to India. "North East and Brahmaputra River, we learnt, are excitingly beautiful and that is why we are here," she added.
However, another pitched in to add: How could we afford to miss visiting this temple to see the goddess?"
Meanwhile, preparations have begun for the four-day annual Ambubachi Mela, scheduled to be held from June 22 in this temple.
It is also believed that during the monsoon rains the creative and nurturing power of the 'menses' of Mother Earth becomes accessible to devotees at this site during the mela.
There is no idol of the presiding deity but she is worshipped in the form of a yoni (Vagina)-like stone instead over which a natural spring flows, Joi Pandit, one of the senior priests, said.
This mela is also known as Ameti or Tantric fertility festival since it is closely associated with Tantric Shakti cult prevalent in eastern parts of India.
Even some Tantric babas make their public appearances only during these four days. The rest of the year, they remain in seclusion. Some babas are seen displaying their psychic powers like putting their heads in a pit and stand upright on it, standing on one leg for hours at a stretch, he added.
About 10 lakh devotees throng the temple during Ambubachi, according to temple record. However, with a plan to give a boost to tourism sector Assam government Tourism Minister Himanta Biswa Sharma flagged off a bike rally at the temple entrance as to propagate the event throughout India.
Responding to questions from journalists, Sharma said that the 37-day rally aims at promoting the divinity of this land and tourism of North East India.
Tourist counters would be set up in the airport and railway station to facilitate tourist passes and keep track of total number of visitors coming for Ambubachi, he said, adding there would be provision for providing guides too, accommodation will be arranged for convenient stay of numerous guests but safety, security and sanitation would be given top most priority.
The temple doors will remain closed for devotees for three days as a ritual practice.
-ANI