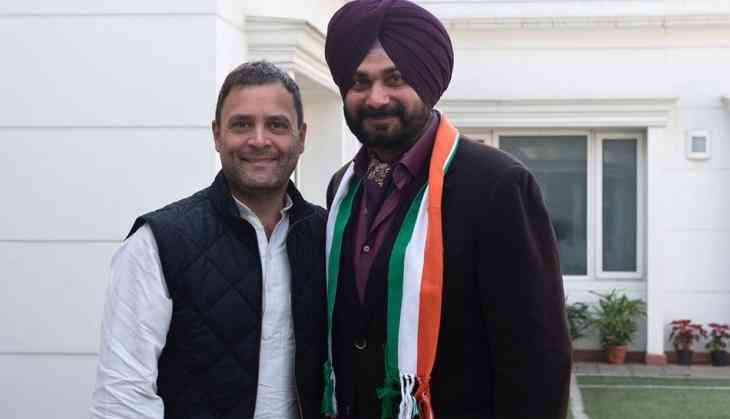 In the most shocking way, Congress President Rahul Gandhi has lost his most winning seat Amethi to BJP's Smriti Irani. That is really a shock to Congress and its leaders. As Rahul Gandhi lost Amethi seat, the Twitter has been so active and they have started taking a dig at Navjot Singh Sidhu to keep his words and resign from the politics.
The Twitter became active for Sidhu resignation on Thursday after Rahul Gandhi accepted his defeat in Amethi. This is really a big setback to Congress and Rahul Gandhi lost by a big margin of 50 thousand votes in the constituency of Congress. The Amethi seat has always been a favorable for Congress leaders and especially to Gandhi family, from Rajiv to Rahul Gandhi they all have won this seat several times.
Let us tell you that in April, Navjot Singh Sidhu totally rejected the claim that Smriti Irani is giving a tough fight to Rahul Gandhi in Amethi. He even said that he will quit politics if Congress president Rahul Gandhi lost elections from Amethi.
I take a bow to the mandate of the people of India... Voice of the people is the voice of God. Congratulations to the Bharatiya Janata Party!

— Navjot Singh Sidhu (@sherryontopp) May 23, 2019
As Smriti Irani won, one person on Twitter wrote, "As Smriti Irani is leading with 28000 votes in Amethi..Indian politics will miss the services of Navjot Singh Sidhu.."
Navjot Singh sidhu please resign as you say on Rahul loss

— Lalit Singh (@LalitSi37040896) May 23, 2019
However, one another Twitter user wrote, "Navjot Singh Sidhu please resign as you say on Rahul loss"
Navjot Singh Sidhu is making headlines after the General elections results 2019 just for the bad reasons. Punjab CM Capt Amarinder Singh has totally said that the reason of huge loss of Congress in Punjab because of Sidhu and his hugs to Pakistan's army general Bajwa.
Also Read - Chhattisgarh BJP candidate distributed 'Ladoo' in happiness, later get to know about defeat