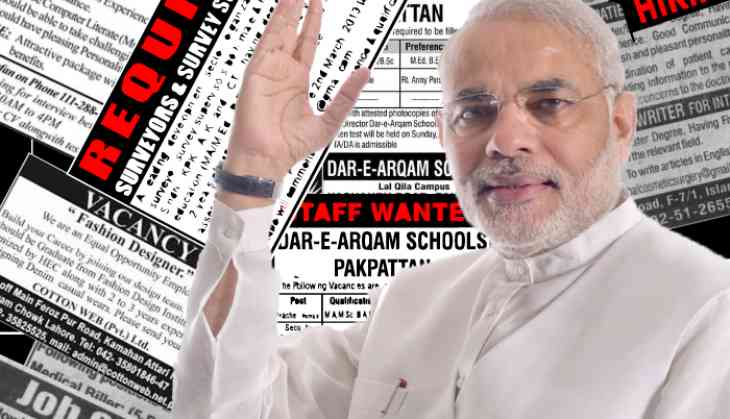 Amidst the debate over rising unemployment in the nation, the Narendra Modi government has now claimed that more than 3.79 lakh jobs have been created in between 2017 and 2019 in various Central departments.
As per the interim budget of 2019-20, the government has claimed that it has generated more than 251,279 jobs in the central government in various establishments between the financial year of 2017 and 2019. The documents presented in the budget have claimed that the jobs will go up by 379,544 to reach 36,15,770 as on March 1, 2019.
The Opposition has been clamping over the government due to the unreleased data of the National Sample Survey Office on the unemployment and jobs, post demonetization but the government, as claimed by the Opposition, has withheld the data as it might effect the BJP's chances to clinch a victory in the upcoming polls of 2019.
After controversy, the two distinguished members including the chairman of the National Statistical Commission had quit from the panel citing the reason that the government has been sitting over the report since December 4 2018.
Although, a chunk of the report was leaked and published in the Business Standard by Somesh Jha where it was indicated that the rate of unemployment has touched 6.1% which is highest in last 45 years. To add on, in 2011-12, the same NSSO had conducted the survey and found that 2.2% was the unemployment rate and it was under the UPA-2 regime.
The interim Budget of 2019-20 also stated that 'Indian Railways will generate the highest number of jobs — 98,999 by March 1, 2019 against its actual strength of 12,70,714 in March 2017."
Also read: Lok Sabha 2019: Ex ally TDP's Chandrababu Naidu to protest as PM Modi visits Andhra Pradesh today for