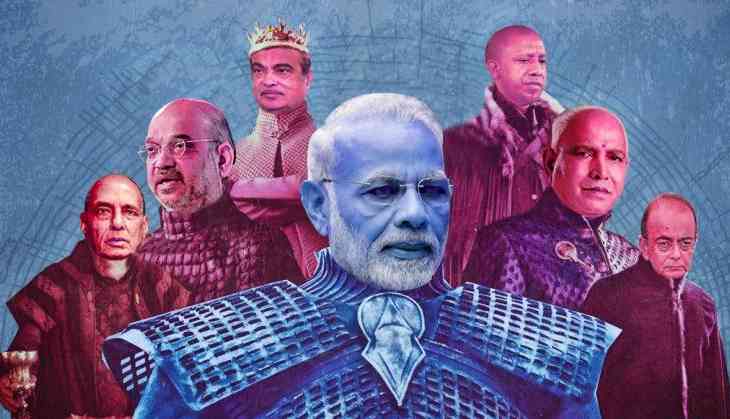 As most awaited HBO Television series Game of Thrones eighth and final season is out, Congress has launched its latest attack on Prime Minister Narendra Modi and his team with a link to the series characters. The Congress took Twitter to take a dig and shares picture of PM Modi and BJP leaders as the Game of Thrones character.
The picture portrays Prime Minister Narendra Modi as 'White Walkers'-- dead army leader-- the Night King, who is widely expected to be the opponent in the final battle.
Tweeting under the hashtag #BJPGameOfThieves, the Congress posted: "Spoiler Alert: When you play the Game of Thieves, you either lose or you bribe!".
Spoiler Alert: When you play the Game of Thieves, you either lose or you bribe! #BJPGameOfThieves pic.twitter.com/wAemvSrYY1

— Congress (@INCIndia) April 15, 2019
The line is one of the popular dialogue taken from the series that go, "When you play the game of thrones, you either win or you die".
In the picture, Union Minister Rajnath Singh has been depicted as Ealder Fray--the character who engineered the "Red Wedding". Amit Shah sporting the Cersei Lannister gown.
Union Minister Nitin Gadkari gets the Joffrey Baratheon crown. Karnataka BJP chief Yeddyurappa depicted as Tywin Lannister - the Hand of the King. While Uttar Pradesh Chief Minister Yogi Adiyanath is most popular character -- Jon Snow. The "The King in the North"
PM Modi's right hand--Finance Minister Arun Jaitley, seen in the character of Petyr Baelish. Also known as Littlefinger.
The Congress post has been viral as it comes hours after the first episode of the season 8 was aired worldwide. After 8 years of series, fans are eagerly waiting to see won sits on the throne.
Also read: Akhilesh Yadav defends Azam Khan's derogatory remark: He wasn't talking about Jaya Prada