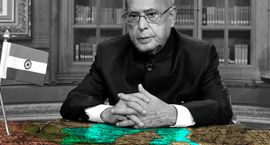 After the Supreme Court rejected an appeal on Friday from deposed chief minister of Arunachal Pradesh Nabam Tuki, who sought a directive that his party, the Congress, be allowed to conduct a floor test in the Arunachal Pradesh Assembly to prove its majority, President Pranab Mukherjee lifted President's Rule from the state, possibly allowing a new government to be formed by rebel Congress leader Kalikho Pul, reports The Indian Express.
On Wednesday, the cabinet had recommended withdrawing President's Rule from Arunachal Pradesh after Pul led 31 MLAS, including Congress rebels, BJP legislators and independents to meet Governor JP Rajkhowa and stake his claim to form a new government.
Pul had led the revolt in the state Congress party that, after much political turmoil, led to the imposition of President's Rule on 26 January. The Congress had 47 MLAs in the assembly of 60 when Pul rebelled along with 20 other Congress legislators, backed by 11 BJP MLAs and two independents. The Speaker later disqualified 14 rebel Congress MLAs.