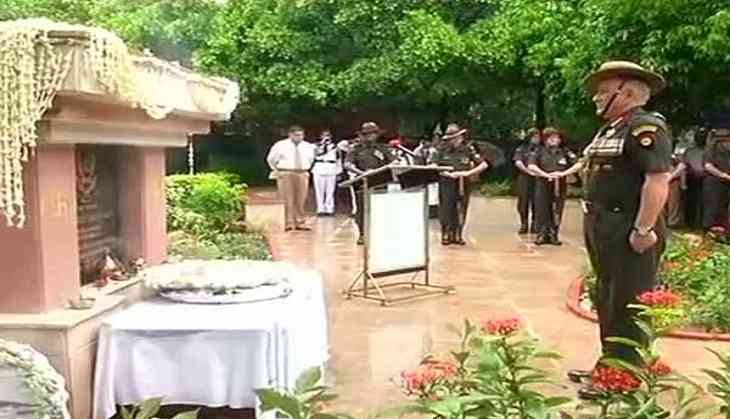 Praising the sacrifice of personnel of the Indian Army for the service of the nation, Chief of Army Staff General Bipin Rawat on Thursday said brave officers never die, they only fade away.
Addressing a gathering at the unveiling of the memorial of second Lieutenant Puneet Datt, Ashok Chakra (Posthumous) the Army Chief hailed the heroics of the brave heart who sacrificed his life for the nation on 20 July 1997.
"The memorial that has been constructed bears a true testimony to the brave officer and we are confident that this will continue to motivate the future generation, to live up to the rich tradition and heritage of the Indian Army. Brave officers never die, they only fade away. Therefore, the memory of late second Lieutenant Puneet Datt will continue to inspire us and the future generation," General Rawat said.
The memorial was built by the residents of Delhi's Defence Colony in the memory of late second Lieutenant Puneet Datt, who lost his life on July 20, 1997 while fighting against terrorists in the Naushera area of Jammu and Kashmir, and was inaugurated on the 20th death anniversary of the brave heart.
"The Army life was not new to late second Lieutenant Datt and therefore, he had the passion to join his father's regiment and serve the nation and I think the opportunity came to him very early in his service career," General Rawat added.
Rajya Sabha MP Rajeev Chandrasekhar, who was also present on the occasion, lauded the initiative taken by residents of the colony for building the memorial themselves rather than waiting for the government to do so.
"This is a unique example of how the residents, the common citizens have come together to honour our valiant bravehearts who have served and sacrificed for the nation. Too many of us keep looking for the government to make these memorials," Chandrasekhar told ANI.
Meanwhile, Major Ranjit Singh (Retired), President, Residents Welfare Association (RWA), Defence Colony, who spearheaded the initiative, said the money was collected by the residents of the colony and even the design of the memorials was made by the locals.
"Late second Lieutenant Puneet Datt was the true son of this colony and the nation, who lost his life in 1997, while fighting in Kashmir. We thought of making the memorial in the colony in his honour. Being one of the youngest recipients of the Ashok Chakra, he was only 23 years old when he lost his life," Major Singh told ANI.
"This is going to encourage the next lot to come. His memory will never fade away," he added.
-ANI