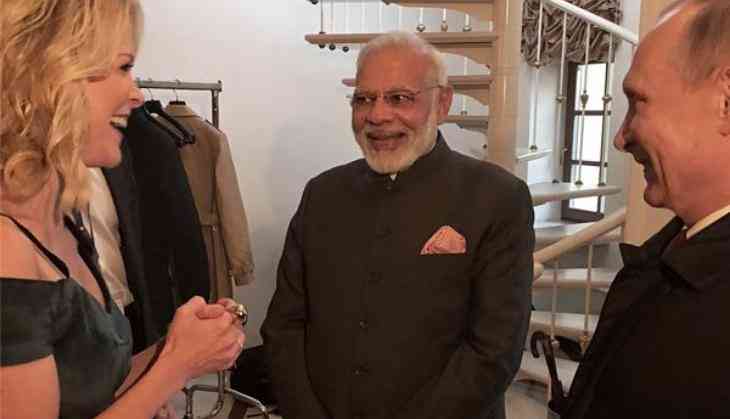 'Are you on Twitter': Internet can't handle NBC reporter's unbelievable question to PM Modi!
It is a prerequisite for every journalist to do their basic preparation and background check before interviewing famous personalities, but National Broadcasting Company (NBC)'s Megyn Kelly clearly fell short on her homework and is now being bashed across Twitter for her incredible question to Prime Minister Narendra Modi.
At state dinner party at Konstantin Palace in St. Petersburg with Russian President Putin and Indian PM Modi. More tonight @NBCNightlyNews pic.twitter.com/FX5kjfIJAf

— Megyn Kelly (@megynkelly) June 1, 2017
Kelly, who interacted with the Prime Minister and Russian President Vladimir Putin at state dinner party at Konstantin Palace in St. Petersburg, immediately set Twitter on fire for asking the former the question.
Before dinner, had a brief interaction with noted journalist & commentator @megynkelly, moderator of tomorrow's session at the @SPIEF. pic.twitter.com/5CQ58Zn5hP

— Narendra Modi (@narendramodi) June 1, 2017
This ludicrous situation came to light when Prime Minister Modi praised Kelly for her picture on Twitter where she is posing with an umbrella, to which the seemingly taken aback Kelly asked the Prime Minister " Are you on Twitter?"
The Prime Minister laughed off her question.
EXCLUSIVE: NBC News' @megynkelly joins Vladimir Putin and Narendra Modi ahead of tomorrow's International Economic Forum in Russia. pic.twitter.com/L12ahtuTDO

— NBC News (@NBCNews) June 1, 2017
What followed was massive ridicule and backlash for the reporter.
.@NBCNews @megynkelly asks @narendramodi ,the 3rd Most Followed World Leader on @Twitter ,"Are you on #Twitter ?". She hasn't done homework! pic.twitter.com/6KTVj3yY2G

— Swamiji (@AOLSwamiji) June 1, 2017
Kelly may sure have come under the spotlight for her important tete-a-tete with two of the world's greatest leaders, but now this one lone blunder is sure to haunt her for a long time.
-ANI