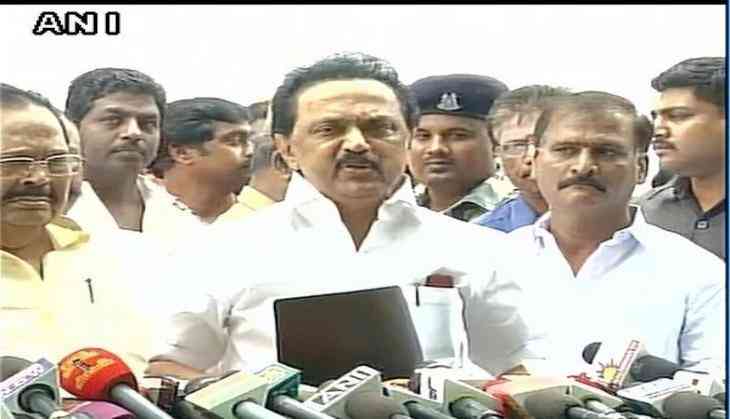 Taking a jibe at former All India Anna Dravida Munnetra Kazhagam (AIADMK) general secretary V.K. Sasikala over reports of bribing jail officials for special treatment in the jail, Dravida Munnetra Kazhagam (DMK) working president M.K. Stalin on Thursday said that it is another feather in the cap of the Tamil Nadu Government.
"This is another feather in the cap of Tamil Nadu Government. There's something fishy," Stalin told media here.
Earlier in the day, Karnataka Chief Minister Siddaramaiah ordered an inquiry after the reports surfaced in media.
"We have taken serious cognizance of allegation of irregularities in Bengaluru Central Prison & ordered high level inquiry. Request all to await the outcome of this inquiry. Strict action will be taken against any person found guilty of wrongdoing," Siddaramaiah tweeted.
A report by the Deputy Inspector General (DIG) (Prisons) D. Roopa had asserted that a bribe worth Rs. 2 crore was given to the prison officials by Sasikala for, including the Director General (Prisons) in order to avail special facilities in Parappana Agrahara central prison.
Roopa, in a report to Director General (Prisons) H.N. Satyanarayana Rao, had said there are speculations that Sasikala paid bribe to prison officials to get special facilities for herself with rumours also of the DG being a beneficiary himself.
On one hand, where Rao has categorically denied all the charges, Roopa, on the other, has maintained her stand, saying that she has no issue with an inquiry taking place into it.
The letter, apart from the information about Sasikala, also talks about many other illegal instances inside the prison.
-ANI