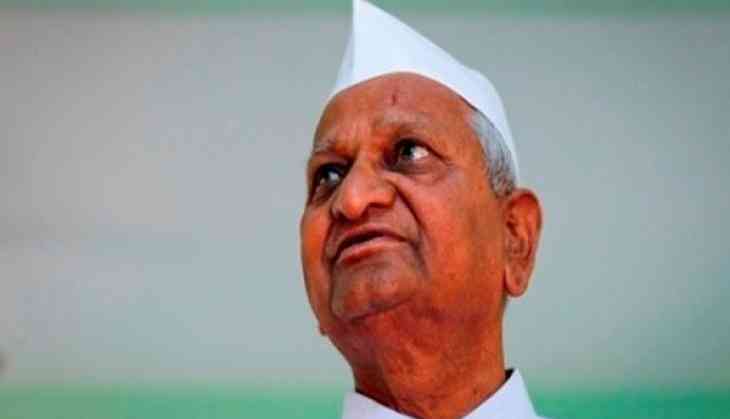 Social activist Anna Hazare is all set to go on an indefinite hunger strick nearly after seven years of his anti-corruption movement in 2011. This anti-corruption movement of Hazare caught the imagination of millions of Indians and shook the neck of the then UPA-led Congress government.
Anna Hazare's anti-corruption protest will be held in the same iconic Ram Lila Maidan, where he protested and set on hunger strike in 2011 demanding to set up a Lokpal to investigate cases of corruption to the then government.
This time, Anna Hazare's target is expected to be the NDA-led BJP government.
Earlier, Hazare has accused the Union government of not appointing the Lokpal bill to investigate the cases of the corruption, despite having a law in place.
"Anna will first visit the Rajghat and then come to the Ram Lila Maidan, where he will go an indefinite strike," said an aide of Hazare.
On the 23 March, Bhagat Singh, Rajguru and Sukhdev were hanged to death by the British, has been chosen to go on indefinite strike.
A core committee meeting of Hazare's trusted aides and representatives of farmers' organisations took place at the New Maharashtra Sadan on Thursday.
Anna Hazare took a round of the Ram Lila Maidan on Thursday, where the organisers claimed that the thousands of people will attend the protest that will begin today.
The 2011 anti-corruption movement by Hazare, against the growing corruption cases, had received the support of millions of people across the country. One of the main organisers behind the movement was Arvind Kejriwal who has later formed his own political party, Aam Admi Party and is ruling from Delhi assembly.
Also read: Rajya Sabha Elections 2018 updates: Voting for 25 seats in six states begins, Finance Minister Arun Jaitley to contest from Uttar Pradesh