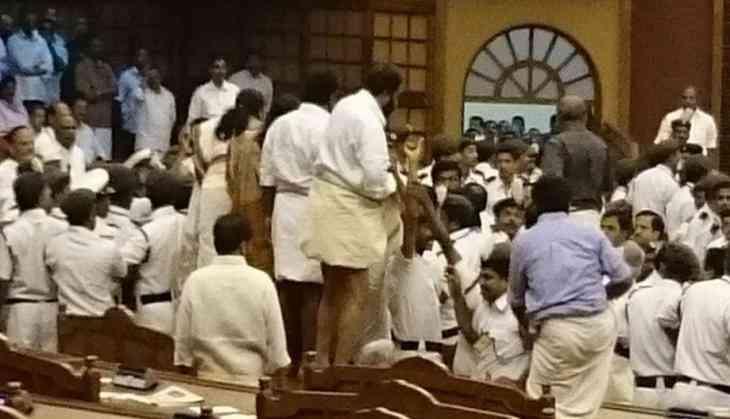 Overnight protest by hundreds of Anganwadi workers demanding increase in wages in the state capital rocked the Karnataka Legislative Assembly on 21 March, 2017 with both opposition BJP and ruling Congress charging each other with not being sensitive to their issues.
As BJP and JD(S) demanded that the government concede Anganwadi workers demand and fix their wage at minimum Rs 10,000 per month, treasury benches led by Chief Minister Siddaramaiah accused the Central of reducing its share in the centrally sponsored programme and putting the burden on the state government.
The protest by hundreds of anganwadi workers who are camping at the Freedom Park, with their charter of demand that includes wage hike, entered the second day on 21 March, 2017.
Women workers, a few of them along with their children are protesting overnight in an open area, despite being faced by challenges like limited availability of food, water and other basic facilities including toilet.
Taking up the issue in the Assembly, former Chief Minister Kumaraswamy said the demand by anganwadi workers was just, as they are used in works relating to implementation of various government schemes.
He said there are about 1,25,000 anganwadi workers in the state and their wage increase demand will cost government about Rs 612 crore and it won't cost too much a burden for the government that has presented a budget of Rs 1,86,000 crore.
Pointing out that with recent increase in their wage by Rs 1000 in the budget, it now stands at Rs 7000 per month, Shettar said their demand is for a minimum of Rs 10,000, and in several neighboring states wage is fixed in the range of Rs 10,000 to 15,000 per month.
Several other MLA's also asked government to meet their demands while JD(S)' YSV Datta highlighted that there is responsibility of Centre also in meeting their demand.
Stating that government was sympathetic to anganwadi workers, Women and Child Development Minister Umashree said government has at regular intervals tried to meet their demands by increasing their wages.
Noting that initiatives taken by her and Chief Minister to convince the protesters with assurances of meeting their demands in the days to come have failed, she said order has been issued to officials to make sure that all basic amenities are provided to protesting workers where they have camped.
Intervening, Chief Minister Siddaramaiah said earlier the funding for this central government programme used to be in the ratio of 90 per cent by the Centre and 10 per cent by the state government.
Hitting out at the Centre for now changing it to 60:40, he said "it has put more burden on the state government, despite this, we have increased the wages regularly."
As he criticised the state BJP for not increasing the wages even once during their tenure, whereas his government has increased Rs 500 every year since taking over, war of words broke between Congress and BJP members.
With allegations and counter allegations continuing, accusing each other of making irresponsible statements and showing lack of concern to woman issues, and both BJP and JD(S) entering the well of the House, Speaker Koliwad adjourned the House.
-ANI