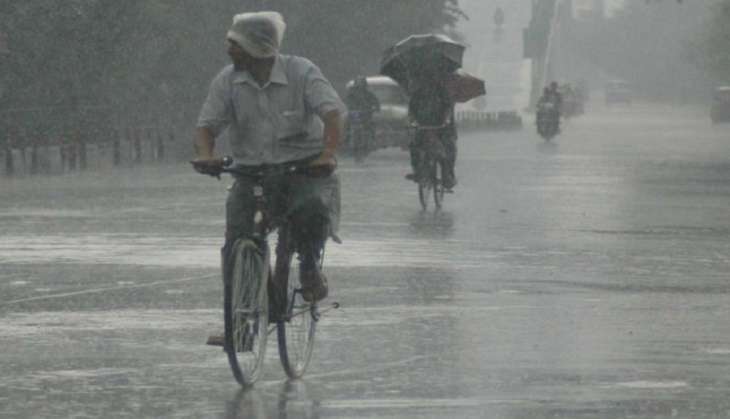 The low pressure area over west central Bay of Bengal and adjoining coastal Andhra Pradesh and the associated upper air cyclonic circulation tilting southwards caused heavy downpour since last 24 hours in coastal Guntur and Prakasam districts throwing normal life out of gear.
Flood waters gushed onto the streets, inundating agriculture fields, cutting off roads and rail tracks in Palnadu region of Guntur.
Small rivulets were in spate due to heavy downpour while tanks started overflowing as the rainfall touched a maximum of 24.7 cm in Karempudi mandal of Guntur district, followed by 21 cm in Durgi and 20.6 cm in Jangameswaram.
Macherla town recorded 17 cm, Chimakurti (Prakasam district) 17 cm, Ongole town 15 cm and Darsi recorded 13 cm of rainfall in the last 24 hours.
Passenger train services between Macherla and Guntur were cancelled after a 500 meter portion of the railway track at Gurazala Gate halt was washed away in the flood caused by the Dandi rivulet.
The APSRTC bus station in Gurazala was also inundated disrupting bus services. Road transport between many villages in Palnadu remained cut off.
In Ongole town of Prakasam district, the Andhra Pradesh Transco's district store was inundated with flood water.
A major tank was breached in Yerragondapalem mandal in the district, cutting of transport between Anna Samudram and other villages.
Revenue Officials were supervising rescue and relief operations in the flood-hit parts of the region.
Andhra Pradesh Chief Minister N. Chandrababu Naidu reviewed the situation with district collectors of Guntur and Prakasam and instructed them to take up necessary rescue and relief operations immediately moving people from the low lying areas to shelters providing food water and milk.
Meanwhile, the Met Department predicted heavy to very heavy rain at isolated places very likely over coastal Andhra Pradesh and Telangana in the next 24 hours.
-ANI