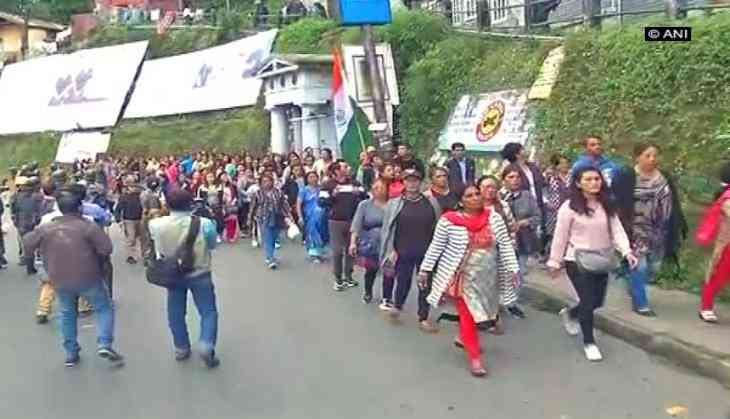 Darjeeling Superintendent of Police Akhilesh Chaturvedi, who led the raid at Gorkha Janmukti Morcha (GJM) chief Bimal Gurung's house and seized a large cache of arms on Thursday asserted that they had prior information and that a "peace-minded person will never accumulate such kind of material."
Talking to media here, Chaturvedi said, "Yesterday evening, we got the information that some kind of ammunition will come over and there will be an attack over the police. So, thats why in the morning, we conducted searches, raid and seizure at several places and recovered arrows, mechanised bows, prohibited arms, explosives, other contrabands, and a huge amount of cash."
Claiming that all sorts of legal action as per law against the people involved in collecting arms, Chaturvedi said any "peace-minded person will not keep such material."
The Darjeeling SP further informed that they have detained two people in connection with the matter.
The police, earlier in the day, raided GJM chief Bimal Gurung's office and recovered arms, arrows and cash.
In response to the police raid, the GJM called for an indefinite shutdown.
Gurung, a day before, had said that the police were working like the All India Trinamool Congress (TMC) cadre and the fight wouldn't stop even if all Central Reserve Police Force (CRPF) personnel of country were sent to Darjeeling.
"The police work like TMC cadre. Even if all CRPF personnel of country are sent here, our fight won't stop," Gurung said.
Earlier, as many as six parties including the GJM and the Bharatiya Janata Party (BJP) adopted a resolution for a separate Gorkhaland state.
The Trinamool Congress (TMC) did not attend the meeting.
The Ministry of Home Affairs (MHA) is monitoring the situation developing in Darejeeling.
Inculpating the ruling TMC for the ongoing protest in Darjeeling by the GJM, the BJP accused the state government of alienating the community, which resultsed in them facing an identity crisis.
Bose held the state government responsible for the escalated tension in Darjeeling and said that the ruling regime cannot solve this issue by simply providing some funds and forming the Gorkhaland Territorial Administration (GTA).
West Bengal Chief Minister Mamata Banerjee has branded the GJM protest as 'abhorrent' and appealed to the people of the region to maintain peace.
The GJM supporters are also protesting against the alleged imposition of Bengali in the schools of the hills.
-ANI