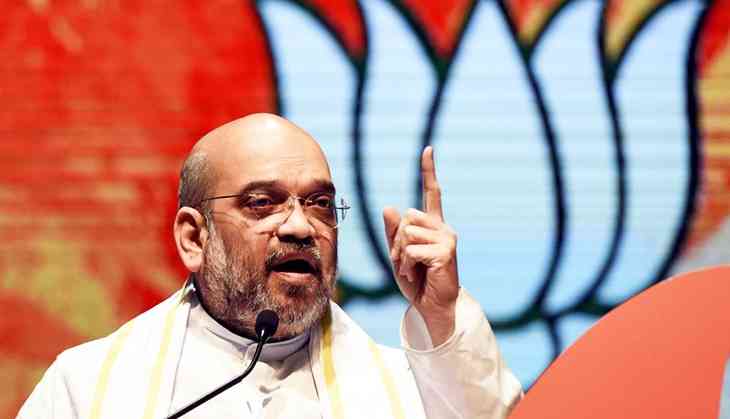 Bharatiya Janata Party (BJP) president Amit Shah will be on a three-day visit to Maharashtra as a part of his 110-day detailed tour programme to all states.
Shah will reach Chhatrapati Shivaji Airport in Mumbai at 10:10 a.m. on Friday. At 10:45 a.m., he would offer floral tribute to eminent personalities such as Chhatrapati Shivaji Maharaj, Dr Babasaheb Bhimrao Ambodkar, Veer Savarkar and Balasahob Thackoray at the Shivaji Park.
At 12 noon, he would meet BJP MPs, MLAs, state BJP's office bearers, morcha presidents, presidents of districts and mandals and other elected representatives at Garware Club in Mumbai.
At 2:30 p.m., he would meet the ministers of Maharashtra Government at the Chief Minister's residence. At 6: 30 p.m. in the evening, Shah would meet BJP MPs and MLAs from Maharashtra at Sahyadri Guest House.
On Saturday, the BJP president would meet core committee members of the state at 11 a.m. at Vasant Smriti, Mumbai. Shah would hold a meeting of departments and committees of the state party at 12 noon.
The BJP President would address the press at 3 p.m. at Vasant Smriti. In the evening, he would hold a review meeting of BJP state unit's activities in the state.
On Sunday, Shah is scheduled to take part in a meeting of Pandit Deendayal Upadhyaya Birth Centenary year at Sahyadri guest House. He would also review the various programmes of the party to strengthen the party at the booth-level.
At 4 p.m., Shah would meet eminent intellectuals from Mumbai and discuss with them the party's ideology and policies and other issues.
-ANI