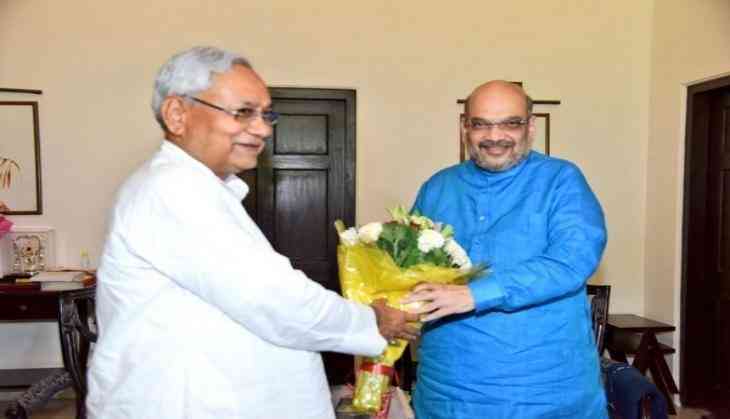 Bharatiya Janata Party (BJP) Chief Amit Shah on 12 August announced that he has extended an invitation to Bihar Chief Minister Nitish Kumar of joining the National Democratic Alliance (NDA).
This is the first official development between Nitish and the BJP, post the debacle last month, with Nitish Kumar resigning as the Bihar Chief Minister and breaking ties with the grand alliance and then forming the government with the saffron party.
In a tweet Saturday morning, Shah spoke about their meeting on Friday and that he invited Nitish to join BJP's national coalition.
कल JD(U) के राष्ट्रीय अध्यक्ष श्री @NitishKumar जी से अपने निवास पर भेंट हुई। मैंने उन्हें JD(U) को NDA में शामिल होने के लिए आमंत्रित किया।

— Amit Shah (@AmitShah) August 12, 2017
This was their first in-person interaction since Nitish reconfigured his government in Bihar to include the BJP last month.
Shah earlier tweeted a snap from their meeting and posted, "Met Chief Minister of Bihar Shri @NitishKumar."
Met Chief Minister of Bihar Shri @NitishKumar. pic.twitter.com/gUnIRzSxf4

— Amit Shah (@AmitShah) August 11, 2017
The Bihar Chief Minister also met Prime Minister Narendra Modi on 11 August.
Last month, BJP's mounting pressure on Nitish to oust then Deputy Chief Minister Tejashwi Yadav from the Cabinet led to the departure of JD-U and RJD led 'mahagadhbandhan' government in Bihar with Nitish's resignation.
This came after the CBI registered a corruption case against RJD chief Lalu Yadav, his wife Rabri Devi and son Tejashwi Yadav on allegations of awarding the tender for development, maintenance and operation of hotels in Ranchi and Puri in 2006.
Nitish, however, swore-in as the Bihar Chief Minister the very next day with Sushil Modi as his Deputy Chief Minister.
Reasoning out the whole drama, Nitish Kumar reiterated that he quit the 'grand alliance' in Bihar for the development of the state.
-ANI