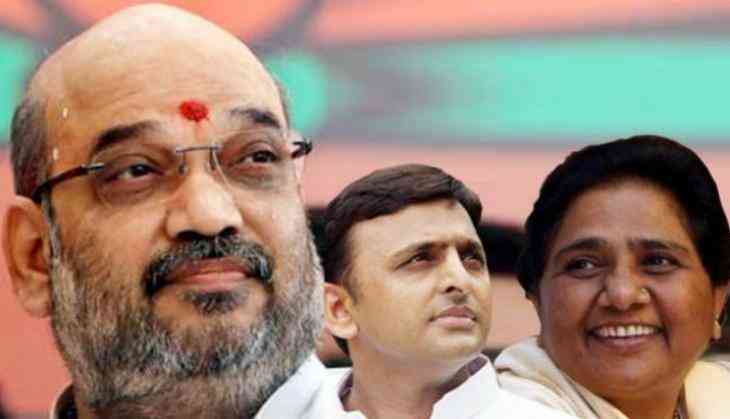 Amit Shah and grand alliance
As the 2019 Lok Sabha election is approaching, the BJP has now geared up its final attack over the Opposition and has maintained that its their karyakarta's who will lead BJP in the polls.
Amit Shah, while addressing a rally in Kanpur said that the BJP will again form the government at the center and that too with a comfortable majority and he added that Opposition must clear its stand on NRC issue.
Amit Shah roared at the rally saying, "Jab vidhansabha ke chunaav the tab bhi UP ke 2 ladke ikattha aaye the.Aaj bhi gathbandhan hua hai, ye kehte hai ye ho jayega vo ho jayega, uss waqt bhi kehte the. Lekin jis waqt BJP ka karyakarta booth ke maidan mein utra, sab gathbandhan ko dhwast kar ke 325 seat laya."
BJP President Amit Shah in Kanpur: If gathbandhan comes to power then Behenji will be PM on Monday, Akhilesh ji on Tuesday, Mamata didi on Wednesday, Sharad Pawar ji on Thursday, Deve Gowda ji on Friday, Stalin on Saturday, and the whole country will go on a holiday on Sunday. pic.twitter.com/zIkeaEfAzV

— ANI UP (@ANINewsUP) January 30, 2019
Earlier, PM Narendra Modi was speaking in hishome state Gujarat's Surat and mentioned former PM Rajiv Gandhi while attacking the Congress party's corruption culture.
PM Modi said, "Mujhe mat poochna ki Rs 40-50 ka bulb Rs 350 mein bikta tha toh beech wale paise kahan jate the, mujhe mat poochna,uska jawab Rajiv Gandhi dekar gaye the, Re 1 jata tha toh 25 paisa pahunch'ta tha, baaki ka 85 paisa konsa panja khata tha,vo saari duniya janti hai."
While taking a jibe at the Grand Alliance and its leaders, BJP president chuckled in the rally stating, "If gathbandhan comes to power then Behenji will be PM on Monday, Akhilesh ji on Tuesday, Mamata didi on Wednesday, Sharad Pawar ji on Thursday, Deve Gowda ji on Friday, Stalin on Saturday, and the whole country will go on a holiday on Sunday."
Also read: BJP govt declines to release post note-ban jobs data, 2 key panel members of National Statistical Commission quit
PM Modi in Surat:Mujhe mat poochna ki Rs 40-50 ka bulb Rs 350 mein bikta tha toh beech wale paise kahan jate the, mujhe mat poochna,uska jawab Rajiv Gandhi dekar gaye the, Re 1 jata tha toh 25 paisa pahunch'ta tha, baaki ka 85 paisa konsa panja khata tha,vo saari duniya janti hai pic.twitter.com/SWd8y28GYz

— ANI (@ANI) January 30, 2019