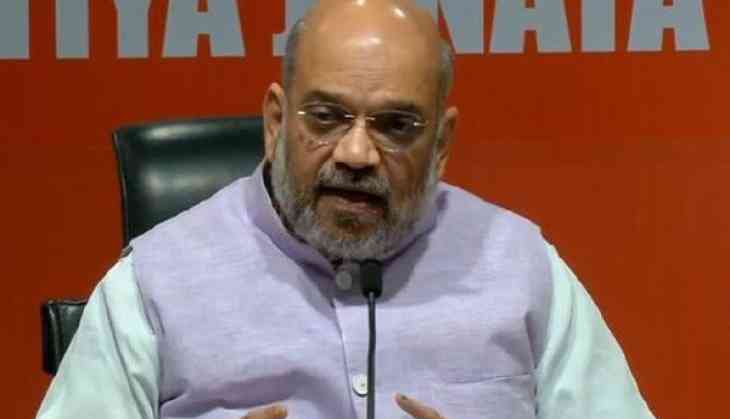 The Bharatiya Janata Party president Amit Shah on Wednesday accused the Mamata Banerjee-led Trinamool Congress government in West Bengal of indulging in violence in the state. Addressing a presser, Shah blamed Banerjee for Tuesday's clashes between ABVP and TMCP supporters at a rally in Kolkata.
"There have been no instances of violence in any other place except in West Bengal," Shah said. BJP chief also alleged that the West Bengal police watched the violence as mute spectators as the TMC workers vandalised BJP posters. He also alleged that the Election Commission has been a "mute spectator" in the West Bengal violence.
"The Election Commission is a mute spectator in West Bengal; history-sheeters have not been arrested before polls," he said, slamming the poll panel.
"Mamata Banerjee claims that BJP is doing it, I want to tell her, we are fighting in every state in the nation, unlike you on 42 seats in West Bengal. Violence didn't take place in 6 phases of elections anywhere but Bengal which proves that TMC is responsible for it," Shah said in a press conference.
The BJP chief Amit Shah escaped the violence unhurt and was made to cut short the roadshow. "Had CRPF not been there, it would have been really difficult for me to escape, BJP workers were beaten up, TMC can go to any extent, it's with luck that I made it out," Shah said.
In awake to the West Bengal violence, the Election Commission will hold a review meeting with the observers and Kolkata chief electoral officers for the last phase of Lok Sabha polls on May 19. The review meeting will be held today (Wednesday) via video conference.
Bharatiya Janata Party chief Amit Shah's first roadshow in West Bengal's Kolkata had witnessed massive violence, arson and a police lathi-charge on Tuesday. The clash broke out between ABVP and Trinamool Congress Chhatra Parishad (TMCP) supporters. The students were holding "Amit Shah Go Back" posters at College Street. Vidyasagar statue was also taken down in the violence.