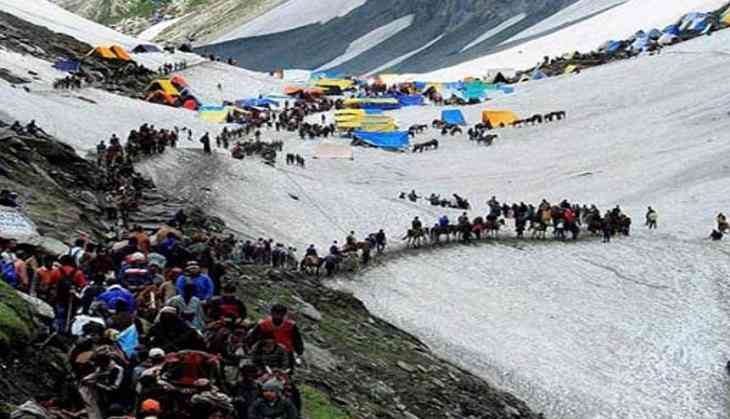 Ahead on suspicions of Amarnath yatris might be on militant group Hizbul Mujahideen's terror attack target, the Union home ministry biffed up the security for the pilgrimage, which starts on 28 June. However, The militant group chief Riyaz Naikoo has said that the yatris are their guests and they won't target them, purportedly releasing a 15 minutes audio clip.
The 15-minute clip, circulating on WhatsApp, carries a picture of Riyaz Naikoo, the commander of the militant group, PTI reported. In an audio message, Naikoo said the Hizbul have no plan to attack the pilgrims. "We will never ever attack yatris as they are our guests and come here to perform their religious rituals."
"Militants have never attacked the Amarnath yatra. We are not at war with yatris. We are at war with those, who are suppressing the people of Kashmir," he said, rejecting the police claim that militants were planning to attack the Amarnath pilgrims. "We never attacked them in the past and we don't have any enmity with them. Our fight is with those who commit cruelty against our people and those who have forced us to pick up the gun."
"We want to tell Amarnath yatris that you face no threat from us. You come without security. You are our guests and don't feel frightened."
Last year, at least eight people were killed and 17 were injured in an attack on a bus carrying Amarnath Yatra pilgrims in July. This year, the pilgrimage will take place between June 28 and August 26.
The Amarnath Yatra began on Wednesday with the first batch of pilgrims flagged off from the base camp, reported ANI. "With the cooperation of public, all security agencies and development agencies, we have put a scheme in place and are trying our best to address concerns of the yatris," said advisor to the Jammu and Kashmir Governor Vijay Kumar.
Also read: Vijay Mallya releases letter to PM Modi to put things in right perspective; says he has become 'poster boy' of loan default