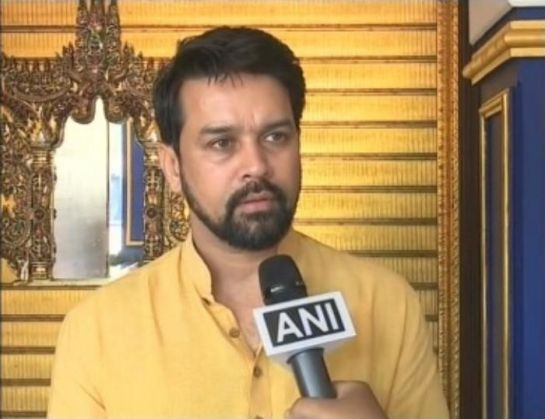 BJP youth wing chief Anurag Thakur on 27 February led a protest against the Congress - demanding that the party clarify their stand on the Parliament attack convict Afzal Guru.
Accusing the Congress of siding with 'anti-national' elements, workers of the youth wing protested outside the Congress office in New Delhi. A few protesters were also detained by the police.
The Congress has joined hands with corrupts to attack the Narendra Modi-led Centre government, Anurag Thakur alleged.
"The nation demands an answer from Sonia and Rahul that why is the Congress defending anti-national forces? Rahul Gandhi is supporting those who are calling Afzal Guru a martyr. Chidambaram says that he has doubts over Afzal Guru's involvement in the Parliament attack and thereby questioning his execution. During their time, the Congress did everything in their power to defend Ishrat Jahaan, a terrorist".
Attacking and defaming the government is a planned strategy of the party, Thakur said.
"The nation wants to know what the Congress' stand is on Afzal Guru and Ishrat Jahan. Even today, why do they support those who brand terrorists as martyrs? How can the nation possibly be safe in the hands of such people?"
- With inputs from ANI