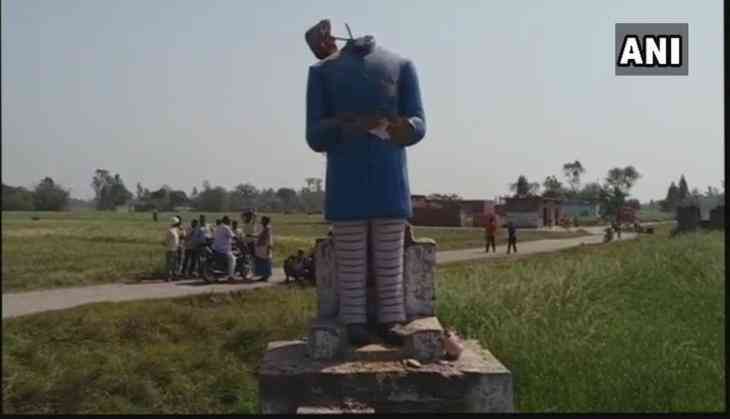 After Aligarh and Meerut, Bhimrao Ambedkar's stature was vandalized by unidentified persons in an Ambedkar park in Trivenipuram area of Jhunsi in Allahabad by unidentified miscreants.
The head of the statue was found lying by Locals on Saturday, police said. Uttar Pradesh witnessed the third incident of statue vandalizing in this month. After locals informed police and local BSP and SP leaders, supporters gathered to protest at the park, demanding to arrest the culprits. Phulpur MP Nagender Singh Patel was at the spot.
The police said that it registered an FIR against unknown persons.
"We have registered an FIR under sections 295 A (deliberate and malicious acts intending to outrage religious feelings of any class) and 427 (Mischief causing damage) and we are investigating the case. The FIR has been registered against unknown persons. We suspect the incident occurred last night," said Additional SP (trans-Ganga) Sunil Kumar.
Demanding to replace new statue with the damaged one, BSP Allahabad president R K Gautam "We have demanded the district authorities set up a police chowki here because this act by unlawful elements is unpardonable. This statue over the last fifteen years, since a private person set it up, has been vandalised atleast four times. We have also demanded that the authorities replace the vandalised statue with a new one. We will be staging a sit-in till it has been replaced."
Echoing the demand of Gautam for new stataue, Samajwadi MP Nagender Patel said ""We have asked the district administration to install a big statue here and they have promised to do so. This is the fourth time this statue has been vandalised over the years so we asked them to establish a police chowki here as well. Unlawful elements keep doing this to the mahapurush of the Dalits, it is a shame."
After Lenin's statue was demolished in Tripura, the country witnessed demolishing of various personalities' statue. Ambedkar's statues were demolished in Meerut and Aligarh this month.