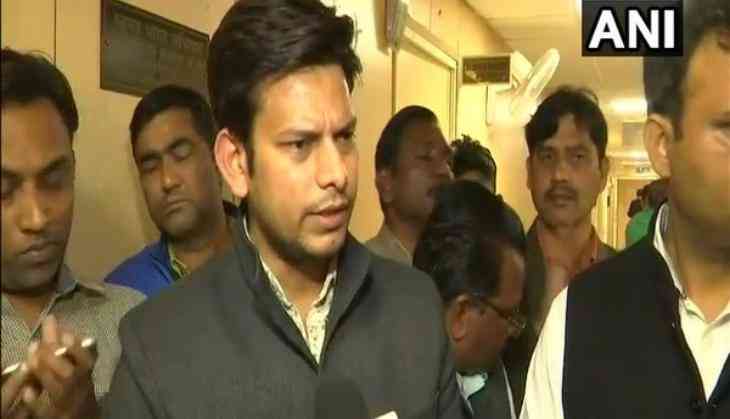 AAP MLA Prakash Jarwal arrested
Delhi Police arrested Aam Aadmi Party (AAP) MLA Prakash Jarwal late night on Tuesday in connection with an alleged altercation between him and Delhi Chief Secretary Anshu Prakash.
Arrest was made after FIR was filed against Jarwal under sections of 186 (obstructing a public servant from performing the duty), 353 (assault on public servant), 323 (voluntarily causing the hurt), 342, 504, 506(2) & 120b & 34 of the Indian Penal Code.
According to AAP Councillor Prem Chauhan, when Jarwal along with a colleague was going to attend a marriage, the Delhi police stopped his vehicle near Khanpur traffic signal at around 11 p.m. on Tuesday and picked him up and let his colleague to go, who informed the AAP leadership about the incident.
On Tuesday, the Chief Secretary alleged that he was manhandled at Chief Minister Arvind Kejriwal's residence by two lawmakers of the ruling AAP - Ajay Dutt and Prakash Jarwal.
The Chief Secretary said that he was attacked in the presence of the Chief Minister after being summoned for discussions on Aadhaar-related problems.
Jarwal also lodged complaint against the chief secretary with the SC/ST commission as well as with the Sangam Vihar police station, the AAP Councillor told ANI.
The MLA, in his compliant, alleged that the chief secretary passed casteist comments against him during the meeting at Chief Minister Arvind Kejriwal's residence.
After Jarwal was picked up by the police, the AAP questioned: Why has chief secretary not been arrested when a complaint was filed against him?
Meanwhile, Delhi's bureaucrats have demanded an apology from Chief Minister Arvind Kejriwal over an alleged attack on the Chief Secretary by the Aam Aadmi Party (AAP) MLAs. They have announced to boycott Delhi Government's meetings till Kejriwal tenders apology.
The AAP, in an official statement on Tuesday, clarified its stance and said that a meeting was held at the Chief Minister's residence to discuss Aadhaar related problems.
"About 2.5 lakh families deprived of rations last month due to faulty implementation of Aadhar. MLAs were under tremendous pressure from the public. There was a meeting of MLAs at Chief Minister residence," read the statement.
"He (Chief Secretary) used bad language against some MLAs and left without answering any questions. Now he is making ludicrous allegations," it added.
-ANI