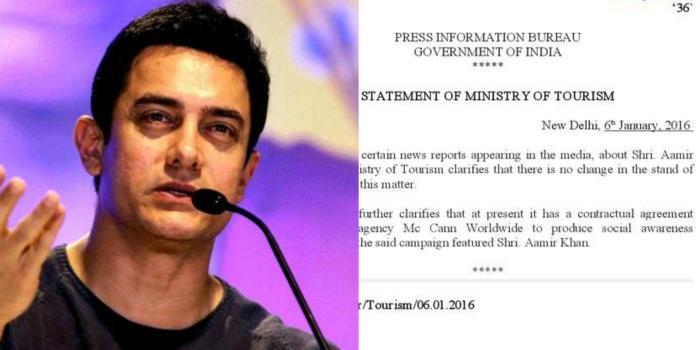 Twitter users went into overdrive following reports that actor Aamir Khan had been removed as the brand ambassador of Incredible India campaign.
But the Ministry of Tourism have stated that there is no change in their stand on the issue. Only to be contradicted by the minister hours later.
Earlier on 6 January, some media reports claimed that the actor had been sacked in view of his remarks on the "growing intolerance" in the country.
The ruling BJP's IT and digital communication in-charge, Amit Malviya, took to Twitter to announce the news - further fuelling the reports.
The media outlets that have been circulating the news have been referring to an RTI query that reportedly established Aamir's removal.
But a closer look at the RTI reply did not reveal any such information.
Why Aamir Khan is no more the face of Incredible India?
Credible sources have confirmed to Catch that the Ministry of Tourism wanted to sack the actor after his November 2015 remarks on intolerance - which drew massive backlash.
The matter related to recruitment of brand ambassadors for the Incredible India campaign is also unclear because the ministry outsources the advertisements for the campaign.
On November 23, 2015 the Dangal actor commented on the growing intolerance in the country. "Kiran (Rao) and I have lived all our lives in India. For the first time, she said, should we move out of India?" he had then said.
"That's a disastrous and big statement for Kiran to make to me. She fears for her child. She fears about what the atmosphere around us will be. She feels scared to open the newspapers every day. That does indicate that there is a sense of growing disquiet," Aamir had said.