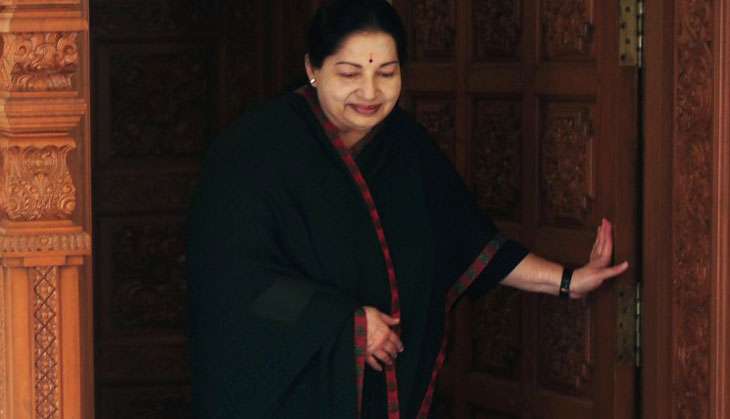 Tamil Nadu Chief Minister J Jayalalithaa was admitted to Apollo Hospitals for reported fever and dehydration, on 22 September. According to recent reports, she has undergone comprehensive treatment and has been advised further rest in the hospital.
However, Apollo Hospitals has also issued a press release that due to her deteriorating health, she is now on respiratory support.
J Jayalalithaa aka Amma and 'Puratchi Thalaivi' (Revolutionary Leader) created history when her arty, the All India Anna Dravida Munnetra Kazhagam (AIADMK) created history on 19 May by winning 134 of the 232 Assembly seats.
Here are some must-know facts about the 68-year-old AIADMK leader:
1. Jayalalithaa joined the AIADMK in 1982, as the then chief minister of the state MG Ramachandran wanted her to debut in politics. She delivered her maiden speech 'Pennin Perumai' (The Greatness of a Woman) at the AIADMK's political conference the same year.
2. Jayalalithaa had topped the Matriculate exam in the state and wanted to be a lawyer, but due to family pressure she joined the film industry at the age of 16.
3. Jayalalithaa has her name etched in The Guinness Book of World Records for hosting the "largest wedding banquet/reception". In 1995, she spent around Rs 10 crore and organised a wedding at a 50-acre ground in Chennai for her foster son VN Sudhakaran's wedding.
A media report back then read:
"For miles between Jayalalithaa's official residence and the wedding site, streets were decorated with Grecian statues and gilded lions. Shrines were erected, with icon-like images of Jayalalithaa in place of Hindu Gods. Fountains played, and the turmoil of daily street life was hidden from view by walls of banana leaves."
4. Jayalalithaa is an avid reader of English books and for this MGR wanted Jayalalithaa to be member of the Rajya Sabha as her fluency in English was commendable. Amma is known to always carry books with her.
5. When she became the chief minister, she was given a cheque as her first salary. However, she said that she had "abundant source of income and does not need a salary". But on being told that the salary is mandatory, she accepted a salary of Rs 1.