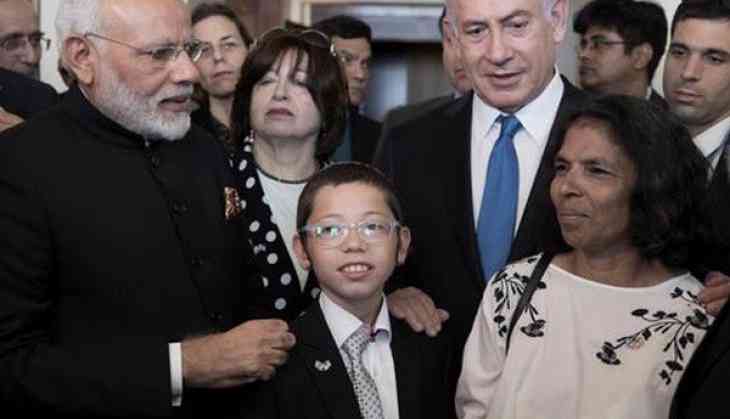 Amid on his six-day visit to India, Israeli Prime Minister Benjamin Netanyahu will present the Taj in Agra today. He will also visit Mumbai on his tour. One of the three survivors of the Chabad House carnage of 26/11 Mumbai terror attack, Moshe Holtzberg will also be visting to Mumbai.
Moshe arrived in Mumbai on Tuesday morning, during which Israeli officials welcomed him. On reaching Mumbai, the maternal grandfather of Moshe, Rabbi Holztberg Nachman said that he is very happy to come back here, and Mumbai is now a safer place than ever.
"It's a very special day. Thank God that Moshe could come again. Mumbai is a lot more safe now," Moshe's grandfather was quoted as saying by news agency ANI.
Moshe Holtzberg(Baby Moshe), who lost his parents in the 26/11 terror attacks, arrives in Mumbai again pic.twitter.com/W3U7jL6ZLF

— ANI (@ANI) January 16, 2018
Moshe had also met PM Modi
During his Israeli visit last year, PM Modi met Moshe at that time and invited him to come to India. Moshe has come to India this time and will be present on January 17 with the Israeli PM in Mumbai. On January 18, only with PM Modi, PM Netanyahu, Moshe will also visit Chabad House.
When Moshe was only two years old
In 2008, Moshe survived he deadly attack while his parents had died in this attack and now after nine years Moshe will also visit Nariman House in the city for the first time.
Moshe survived attack
In 2008, when attacks were carried out in Mumbai, Moshe's father Rabbi Gavriel Holtzberg and mother Rivka were present at the Jewish Center in Nariman House of Mumbai. Both were killed in this attack. At that time Moshe's mother was 6 months pregnant. At that time, Moshe was 2 years old and was crying near the bodies of his parents. There was no wound on Moshe's body.