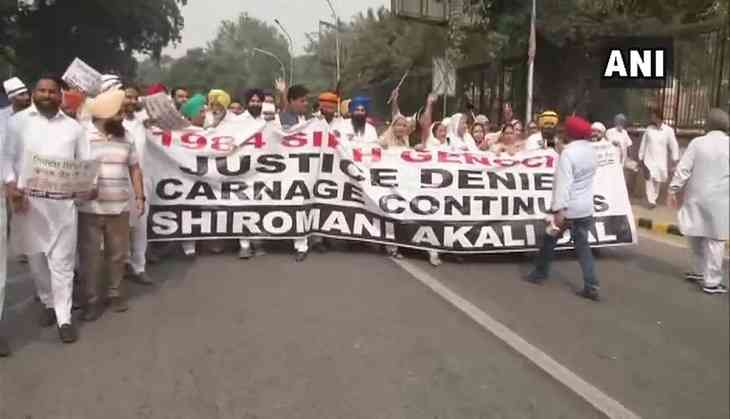 The anti-Sikh riots which happened in November 1984 after the death of former PM Indira Gandhi has yet again surfaced today, when Shiromani Akali Dal organized a protest rally in Delhi, demanding justice for the victims.
The incident occurred after 2 Sikh guards of late Indira Gandhi open fired at her and it was too late for any survival attempts. The prime minister passed away on 31st October 1984 and thereafter, a riot took place across the country, specifically in Delhi, Punjab, Haryana and UP, in which many Sikh were killed.
The anti-Sikh riots emerged as a aftermath of the deeds carried out by the 2 Sikh bodyguards who killed Indira Gandhi. It was alleged that senior Congress leaders including Jagdish Tytler, Sajjan Kumar were involved in the case, to give fire to the protest and transform it into violence through communal speeches.
Several commissions have been formed since then, including an SIT under the courts jurisdiction but no fruitful results ever occurred. The Aam Aadmi Party promised the formation of an SIT to probe the case but the demand it was not accepted by the Central government.
Today, Union Minister Harsimrat Kaur Badal joined the protests organized in Delhi and said, "Our community has been seeking justice since 34 yrs. Thousands of Sikhs were massacred, several women were raped and lost their houses. Such atrocity is a blot in the history of India. No one received justice. Why is judiciary not taking suo-motu action?"
The ANI tweeted "Scuffle broke out between Shiromani Akali Dal protesters and security forces. They are carrying out a protest rally demanding justice for the families of those killed in the 1984 anti-Sikh riots."
Also read: Sabarimala temple to open its door on Nov 5, security tightened as section 144 imposed in parts of Kerala
Our community has been seeking justice since 34 yrs. Thousands of Sikhs were massacred, several women were raped&lost their houses.Such atrocity is a blot in the history of India. No one received justice.Why is judiciary not taking suo-motu action?: Union Min Harsimrat Kaur Badal pic.twitter.com/yYpEh7KiuI

— ANI (@ANI) November 3, 2018