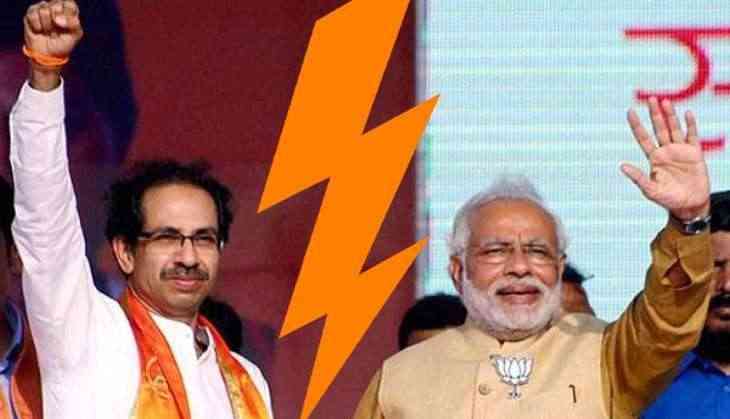 Shiv Sena's Uddhav Thackeray has opened glaring attacks on BJP and PM Narendra Modi in a convention of the party herein Mumbai.
Uddhav targeted BJP's promises of building Ram Temple and providing ₹ 15 lakh to every Indian after posing several questions and terming such poll promises as 'Jumla' by the ruling dispensation.
He said, "₹15 lakh in accounts was a 'jumla' & now even this (Ram Temple) is a jumla?When we went to Ayodhya,ppl said,"ye to Bal Saheb ka ladka aaya hai, ye to Ram Mandir banake hi jayega". If you're making this issue also a jumla, how can you expect people to trust you?"
Taking a soft stand over Congress, Uddhav said that if BJP keeps on alleging that its the grand old party which is resisting them from fulfilling their promises, then voters might shunt them out.
Uddhav Thackeray: They say Congress comes in between when #RamMandir issue comes up. Just because Congress comes in the middle, people punished them by taking away the majority & giving you the power. However, we don't see any Ram Mandir built by you so far pic.twitter.com/7JXTb5akFd

— ANI (@ANI) January 13, 2019
Thackeray said, "They say Congress comes in between when #RamMandir issue comes up. Just because Congress comes in the middle, people punished them by taking away the majority & giving you the power. However, we don't see any Ram Mandir built by you so far."
While commenting upon the recently passed 10% reservation for the General category, Uddhav doubted BJP's intention and advised that "If you really want to help financially weaker section, then why don't you exempt those below ₹8 lakhs per annum income from paying taxes? You have given reservations but have you calculated or considered the actual way of implementing reservations?"
Reiterating the Hindutva agenda, Udhhav questioned BJP's leaders why were they continuously discussing about Lord Hanuman's caste, he asked, "Why is Lord Hanuman's caste being discussed? If any other religions' castes are discussed, it will be made a huge issue, but it's okay to discuss Lord Hanuman's caste. How sad it is."
Also read: Fact check: Defence Minister Nirmala Sitharaman claims 'no terrorist attack in India since 2014,' know the truth
Uddhav Thackeray, Shiv Sena: Why is Lord Hanuman's caste being discussed? If any other religions' castes are discussed, it will be made a huge issue, but it's okay to discuss Lord Hanuman's caste. How sad it is. pic.twitter.com/mEPBECjFcW

— ANI (@ANI) January 13, 2019