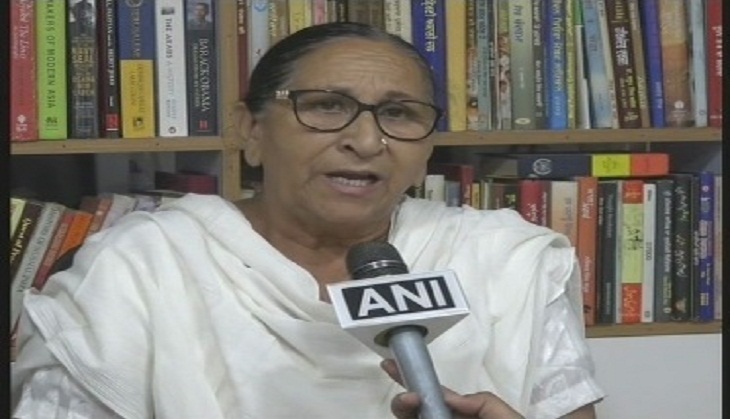 On 19 April, Dalbir Kaur, sister of Sarabjit Singh who died after being allegedly attacked by fellow inmates in Kot Lakhpat jail, Pakistan, has now affirmed that Lahore jail officials have been directed to kill at least 11 Indian prisoners in Pakistani jails.
"I have received information about direction given to the Lahore jail directing to kill our 11 prisoners. Mainly our two prisoners in Pakistan jails are in danger-Kuldeep Kumar from Ahmedabad and Ansari from Maharashtra. Our Ministry of External Affairs must probe this and take strict action on it. The lives of the 11 Indian prisoners are in danger and efforts should be made to free them," Kaur told ANI.
"When I heard Kirpal's body is being brought to India, similar scenes flashed through my mind when Sarabjit's body was brought. It is suspicious why Pakistani prisoners do not die in Lahore jails. I still believe that Kirpal didn't die of heart attack, the reason is something else. Everything will be cleared in the post-mortem," she added.
The mortal remains of Kirpal Singh, the Indian prisoner who died under mysterious circumstances in Lahore's Kot Lakhpat Jail, will be brought back to India this afternoon.
The family members of Kirpal Singh had on Friday, met Union Home Minister Rajnath Singh to express their concerns over the gruesome treatment meted out to the Indians languishing in Pakistani jails.
Kirpal Singh's family had earlier rejected Pakistan's claim that he died of a heart attack and demanded a post-mortem to ascertain the true facts behind his sudden death.
Kirpal had allegedly crossed the Attari-Wagah border to enter Pakistan in 1992 and was subsequently sentenced to death in a serial bomb blasts case in Pakistan's Punjab province.
--ANI