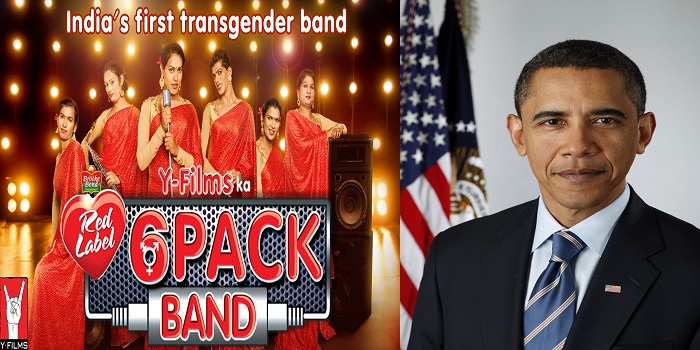 Leading production house Yash Raj Films on 6 January announced the launch of what they claim is the world's first ever transgender band. The six-person ensemble, who are named Six Pack band, has released a catchy cover of Pharell William's Happy - titled Hum Hai Happy. The band has been backed by a number of Bollywood celebrities, including singer Sonu Nigam and actress Anuskha Sharma.
In a press conference announcing the band, the CEO of Yash Raj Films, Ashish Patil, said he hoped the band would be received well and hoped it would help change the conversation about transgender issues.
"We have whole-hearted support from the United Nations. I hope that with the support of the media, we will be able to take the movement to the highest authority".
Also Read: The world just got its first transgender fusion band. And all 6 of them are Indian!
"We hope Barack Obama tweets about this. As President of the United States, Obama has been featured on the cover of an LGBT Magazine - the first to do so".
The YRF Head also said that the initiative was not limited to this album and the band but would work towards the cause in bigger ways.
"We hope that the movement is such a big success that we can have these people on board to sing the next Dhoom anthem and even perform at the Filmfare awards. We have the ambition to take it at global level. It is not just about 'The Six Pack Band', but it is about making the message reach to wider audiences."
Watch the video here:
Patil was all praise for NH10 actress Anushka Sharma, who has lent her voice to the Hum Hain Happy video.
"Anushka has been someone who has been hugely a big supporter and a believer in this theme. She believes that all living beings are equal. What she did for us was the opening voiceover in the video. The entire set up is Anushka's voice," he said.