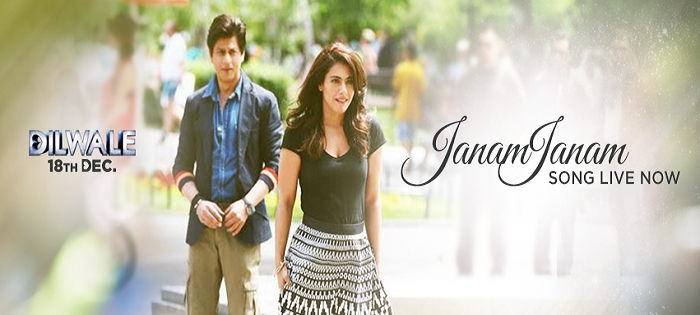 We don't see any cars flying around or the lead actors doing ludicrous things to win over a girl in the new song Janam Janam from Dilwale, making you wonder if it's a Rohit Shetty film. The song, which has captured the everlasting chemistry between Shah Rukh Khan and Kajol takes us to the good old days where love could be emoted merely through eyes and expressions rather than resorting to the intimacy of flesh that we see in movies today.
Also Read: Yes, Shah Rukh Khan is 50 and Alia Bhatt is 22, so what?
Amitabh Bhattacharya has penned some magical lyrics and the music by Pritam is sure make a mark. As expected, this is yet another stylishly shot song which shows off the lavish sets mounted by Rohit Shetty and team.
Also Read: Watch: We put Dilwale's #Gerua visuals on Suraj Hua Madham song. You're welcome
While we see Shah Rukh Khan romancing Kajol in two different looks, we wonder what went wrong between the two in the film which kept them away for 15 years, 4 months and 10 days.
Till then, enjoy the new song from Dilwale:
Also Read: There's no emotion in Manma Emotion from Dilwale, watch it for spunky cars though
The movie releases on 18 December 2015.