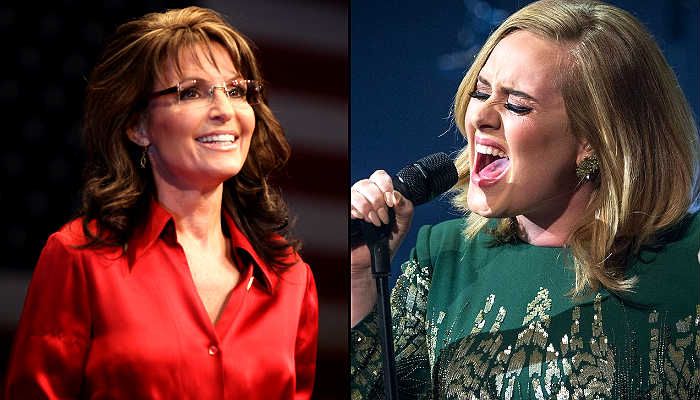 Adele, who recently credited her success in the U.S. to the former Alaska governor Sarah Palin, recently received a thank-you note from the American politician attached with a signed copy of her new book, Sweet Freedom.
The 51-year-old politician called the Hello hit-maker "great", "beautiful" and gushed over the singer's credit, adding:
"It was very kind coming from 'Someone Like You!' Congrats on motherhood. Keep Setting 'Fire to the Rain'. Love, your fan, Sarah Palin", People Magazine reported.
Also read: Adele refuses Beyonce's duet offer
The 27-year-old singer credited her success to Palin because the politician unexpectedly did 'Saturday Night Live' (SNL) with Josh Brolin coinciding with the singer's schedule at the famous American TV show and that particular episode went on to become the most watched 'SNL's ever.
Watch Adele's Hello here:
And inadvertently, the show was aired two weeks before the Grammy ballot.
Also read: Adele sets fire to the internet. Drops new single, Hello
Also, after her SNL appearance, Adele's album 19 instantly shot to No. 1 on iTunes, she got nominated for four Grammys, grabbing two out of them.
-- ANI