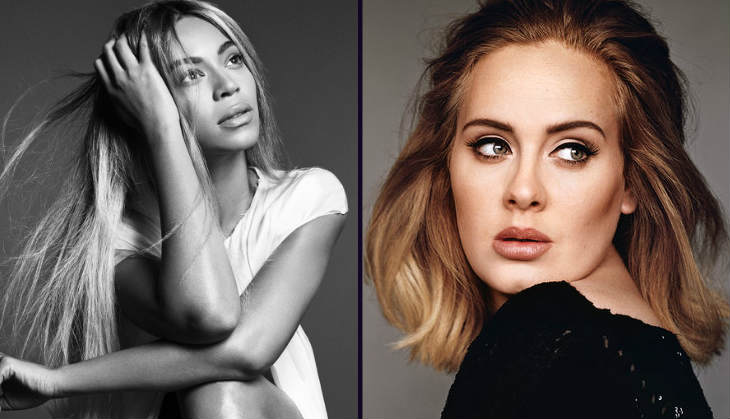 Lakhon dilon ke dhadkan -- Adele, during her recent concert in Denmark, took a moment to acknowledge the great talent that Beyonce Knowles is. The Hello hitmaker was performing at the Forum in Copenhagen, Denmark, on Tuesday when she stopped mid-performance to give a shout-out to Queen Bey.
She raised Beyonce's latest single, Lemonade, and said:
"Are there any Beyoncé fans here tonight? How is it even possible that she only ever gets better? She is Jesus f*cking Christ. Beyoncé is the sickest artist around in the whole entire world. It's unbelievable. I've been listening to her for 17 years, and she's still making music that blows my mind."
Check out the video here:
While Beyonce's fans must be rejoicing this OTT appreciation, the comment hasn't been taken sportingly well by many music lovers. Taking it to the Twitter, several fans expressed their disappointment. Check out a few posts here:
@Adele you praised beyonce anti-police rhetoric? Sad..really really pathetic. You lost some fans.

— Pacman mmaohio35 (@mmaohio35) May 7, 2016
Sorry @Adele, but Thom Yorke is closer to Jesus than Beyonce, but I still wouldn't say such words. #music

— Vincent Bella music (@Vincentbella) May 7, 2016
@Adele upset to learn your views on Beyonce. I thought all that packaging doesn't work on talented people in the industry.

— Hussaina Gambo (@HusseinaGambo) May 7, 2016
Adele went on to refer to Beyonce as 'Jesus Christ', but only after inserting one of the foulest 'expletives... https://t.co/6mo2D0F0wD

— lourens du preez (@lourensdupreez) May 7, 2016
We don't worship people #Adele... not even your almighty #Beyonce...that's not how the world works... it doesn't revolve around you. #Jesus

— Timothy Gordon (@RiderOut) May 7, 2016
sorry @Adele Jesus is uncompared beyonce to him she 's like the rest of us

— Azmarih (@LuvRiriNavy) May 7, 2016