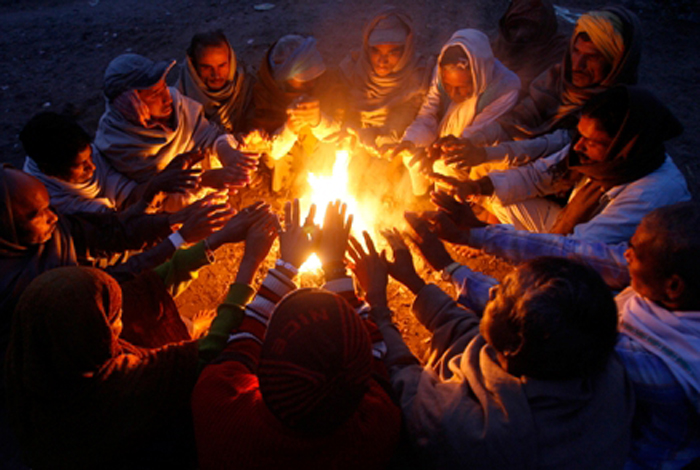 As north India reels from a cold wave, the chill appears to be making its way down south.
Mumbai has been steadily recording low temperatures in the last few days.
On 23 December, Mumbaikars experienced record low temperatures at 11.6 degrees, the second coldest day in December in the city in over five decades!
On 23 December, Mumbai woke up to the second coldest day in the city since 1949. Temperatures dipped to 11.6 degrees in Santacruz and Mumbaikars shivered as the mercury recorded 6 degrees below the average temperature in the city, which is 17 degrees in December.
The Indian Meteorological Department had recorded 17.8 degrees in Colaba just a day ago, making it the second lowest temperature in the month since 2004.
The Skynet Weather Division pegged the plunging temperatures cold north westerly winds -
"Cold and dry north-westerly winds in the region have brought down temperatures. After the next 24 hours, it is expected that warm and moist westerly winds, coming from the sea's direction, will ensure that temperatures rise to the normal level."
Lowering temperatures have actually made Mumbai colder than the hill station city of Mahabaleshwar, which recorded a temperature of 14 degrees on the 23rd.
The Weather Bureau has predicted that minimum temperature will be around 12 degrees in the next 24 hours.
The all time lowest temperature recorded in Mumbai remains 10.6 degree Celsius on 20 December, 1949.
The cold weather spells trouble for pavement-dwellers as well as those with respiratory issues accentuated by smog and pollution.
However, some Mumbaikars welcomed the rare chill in the city:
The news says it's the season's lowest temperature in #Mumbai! No wonder I feel cold!

- Avantika (@stunningmoon) December 24, 2015
Mumbai this chilly evening ! Yes ! Cold weather cold weather don't go don't go 🙏 pic.twitter.com/zmrz3GJn5C

- Soni Razdan (@Soni_Razdan) December 23, 2015
It's finally cold in #Mumbai....super cold morning workout...now feeling warm and energized!👍🏽👏🏽

- Priya Sharad Bapat (@bapat_priya) December 24, 2015