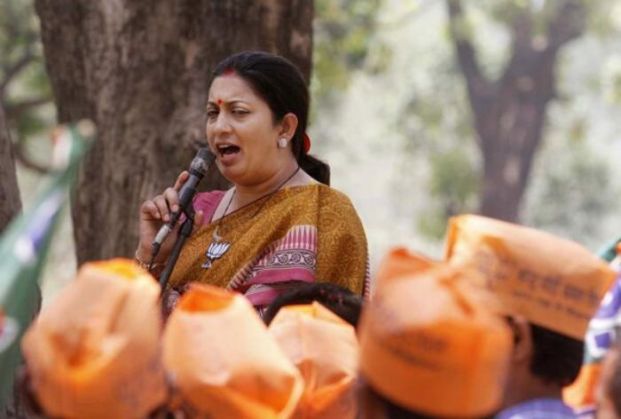 Uttar Pradesh Congress sent a legal notice to Union Miniter Smriti Irani for attacking Rajiv Gandhi Trust and accusing them of being involved in corrupt activities. Responding to it, Irani said that "some persons get disturbed" by her visits to Amethi.
"Some persons get disturbed with my Amethi visits," said Ms Irani in a veiled reference to Rahul Gandhi who had defeated her in this constituency in the last Lok Saba elections.
Addressing a gathering after distributing saplings at Shivdulari Mahila Mahavidyalaya at Gungvaj village in Amethi in Uttar Pradesh, she said, "Yesterday, an advocate came to my Delhi residence when I was busy in a meeting. He has given a notice that he will take legal action against me if I make any comment against Rahul Gandhi or the Nehru-Gandhi family in Amethi."
Uttar Pradesh Congress has issued the legal notice to her for alleging that Rajiv Gandhi Charitable Trust had grabbed farmers' land in Amethi, terming these as "false and malicious".
Asking the Union Minister to cease and desist from making any such imputations against the party, the Congress said it will have "no option" but to pursue appropriate legal remedies, both civil and criminal, if she failed to do so.
"If the Congress or Rahul Gandhi consider the women of this country 'abla' (weak), they should forget it. I am not the one to get afraid of this and will continue to raise Amethi's voice," said Ms Irani today.
"If Rahul or the Congress have the courage then let them put me behind the bars. I will not remain silent. My relationship with Amethi is not that of elections," the BJP leader added.
The minister said a lot needs to be done on the health care front in the area so that the poor gets some reprieve.
A few banners were put up at the programme site against Amethi lawmaker Rahul, but they were removed soon.
Meanwhile, soon after Ms Irani concluded her speech, around 150 Siksha Mitras sitting in the gathering started raising slogans. The minister assured from the dais that she had requested the state government to provide details related to Siksha Mitras to the Centre.
Once the details are received, the Centre would take appropriate steps, she said.
"Till the state government sends the report, we are not in a position to do anything on this issue. I can only say that I will try my level best to protect the interests of Siksha Mitras," she said.
However, even after the assurance, the Siksha Mitras gheraoed the minister when she came down from the dias.
Around 1.72 lakh Siksha Mitras in Uttar Pradesh have been agitating since their job regularisation was quashed by the high court.
Before attending the event, Ms Irani met employees of Rajiv Gandhi Mobile Health Service, who submitted a memorandum. In the memorandum, the employees said that the service was closed from one year and sought its resumption.
The employees said they had written several letters to Congress president Sonia Gandhi and Rahul, but nothing has been done so far. They said during her recent Rae Bareli visit, Sonia had assured them of resuming the service.
-PTI