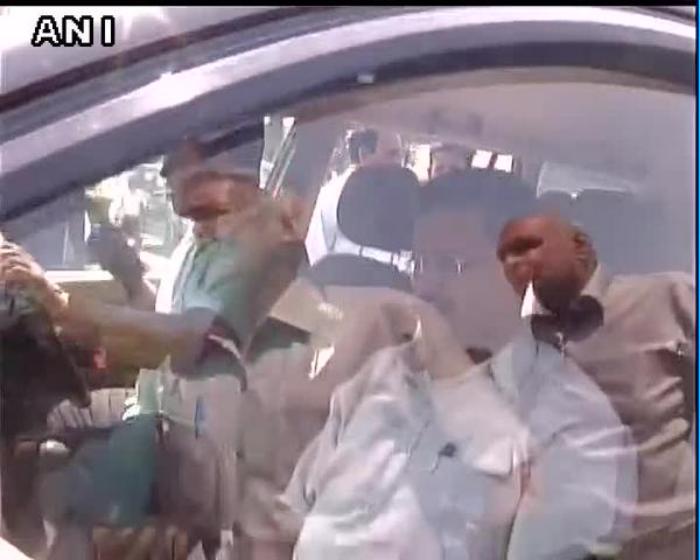 Delhi Chief Minister Arvind Kejriwal, on 3 October, reached Dadri, Uttar Pradesh to meet the family of 58-year-old Mohammad Akhlaq, who was lynched by an enraged mob for allegedly storing beef at his home.
Kejriwal reached the village along with party leaders Kumar Vishwas and Sanjay Singh. However, the administration stopped their car outside the village and is refusing to allow them entry.
We r stopped by police n admn. Mahesh Sharma n Owaisi not stopped yest. Then y me? I am most peace loving. Want 2 jst meet Ikhlak's family

— Arvind Kejriwal (@ArvindKejriwal) October 3, 2015
I m being accused of doing politics. Yes, i am doing politics.But i m doing politics of unity and love. They r doing politics of hatred(1/2)

— Arvind Kejriwal (@ArvindKejriwal) October 3, 2015
We firmly beileve that Hindus n Muslims have to stay united n not become vote banks. They want to divide people(2/2)

— Arvind Kejriwal (@ArvindKejriwal) October 3, 2015
Reportedly, media persons were also attacked by the people while reporting the case. Earlier, BJP leader and Union Minister Mahesh Sharma had criticised the way media was reporting about the incident.
Sanjay Singh, Superintendent of Police told media that the police was responsible for the safety of Delhi CM and thus he was escorted to a guest house as the locals are protesting against VIP movement in the village.
Akhlaq and his son were attacked by a group of people on 28 September, after an announcement was made in the nearby temple that his family had slaughtered a calf and was storing it for consumption.