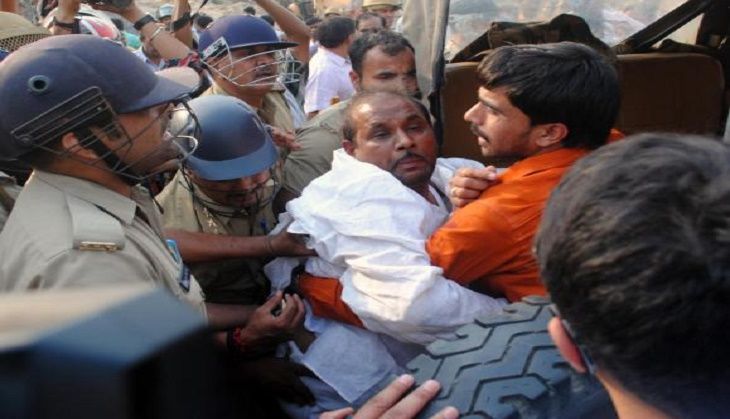 On 29 April, controversial Samajwadi Party MLA Rampal Yadav was suspended from the party for six years for his alleged involvement in an illegal construction deal.
Yadav was suspended from the party after he was arrested for allegedly manhandling officials of the Lucknow Development Authority (LDA), who were demolishing his under-construction building in the Gautampalli area of the state capital.
According to reports, the construction was allegedly being carried out - on land registered in the name of Yadav's wife - without the LDA's approval. The building's demolition was approved in February but the MLA had then requested that the order be reviewed. His review application was rejected this month.
No stranger to controversy
In an FIR lodged at Gautampalli police station on the complaint filed by LDA assistant engineer Alok, Yadav and his eight supporters - who were also arrested - have been booked on charges of attempt to murder, rioting, assault and criminal intimidation.
This is not the first time that the MLA from Biswan seat in Sitapur district has taken the law into his hands. In December 2015, Yadav was caught on camera slapping some people in the presence of the UP Police.
"Yadav has been known in the state for hooliganism. He has always been surrounded in controversies in which either he or his men manhandled people. However a strict action was never taken against him," an SP leader told Catch on condition of anonymity.
Is a fallout with UP CM Akhilesh Yadav to blame?
"He had turned rebellious after his relationship with Akhilesh Yadav soured during the panchayat elections after his son - Vinod Yadav was denied party support for the post of zila panchayat chairman. Going against the SP, Vinod contested against the SP-supported candidate and won. Following the win, Rampal was suspended citing anti-party activities, but his suspension was revoked after a few weeks," the SP leader said.
Inside party sources claim that the SP high command was looking for a strong reason to take action against the MLA - which led to the government authorities ordering that his under-construction building be destroyed in a bid to provoke him.
"When he had good relations with senior SP leaders, no action was taken against him and since he had gone into the bad books this was bound to happen someday," said a source.