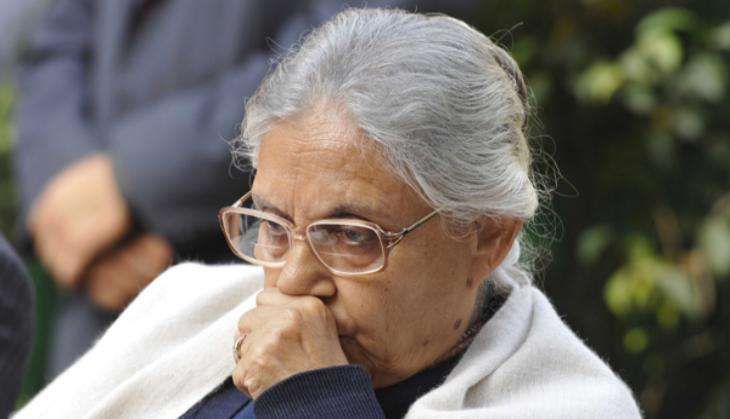 The Bharatiya Janata Party (BJP) today said the Congress party's move to project Sheila Dikshit as their chief ministerial candidate in Uttar Pradesh will not have any impact on their prospects in the state's electoral battle.
BJP's Shrikant Sharma said the Congress does not have any presence in the state and accused them of being hand-in-glove in the corrupt practices during successive Samajwadi Party and BSP governments in Uttar Pradesh.
"Earlier there were discussions that Rahul Gandhi would be projected, then Priyanka Gandhi Vadra's name came up, but now they have projected Sheila Dikshit. Congress doesn't have a presence in Uttar Pradesh. Congress kept supporting successive corrupt governments in the state," he said.
"The state is in bad shape, law and order is bad, education system is crippled, there is no water, electricity or proper roads. The state needs a change. BSP and SP looted the state with help from the Congress," he added.
Former Delhi chief minister Sheila Dikshit today thanked the Congress High Command for selecting her as the chief ministerial candidate for the 2017 Uttar Pradesh Assembly polls and expressed the hope that the grand old party will emerge victorious in the politically crucial state.
Dikshit vowed to contest the Uttar Pradesh polls unitedly to give a tough challenge to the ruling Samajwadi Party, Mayawati's Bahujan Samaj Party (BSP) and the Bharatiya Janata Party (BJP) in the state.
Dikshit, 78, however, said the Uttar Pradesh polls will definitely be a challenge for the Congress.
Dikshit's choice for the top post comes amid speculations that Prashant Kishore, who has been roped in as the party's poll strategist for Uttar Pradesh, is of the view that a Brahmin face should represent the Congress in the politically crucial state.
Dikshit is the daughter-in-law of prominent Congress leader from Uttar Pradesh Uma Shankar Dikshit, who was a Brahmin face and had served as a Union minister and governor for a long time. This move can be seen as an attempt by the Congress Party's part to win back its traditional upper caste voters.
The community, a traditional vote bank of the Congress, later shifted allegiance to the BJP. A large chunk of Brahmin votes had also gone to the BSP in the past when party supremo Mayawati gave tickets to many candidates belonging to the community.
Dikshit, who served thrice as the Delhi Chief Minister before AAP's Arvind Kejriwal defeated her with a record mandate in December 2013, had stated after her defeat that she was ready for any role which the party assigns to her.
-ANI