A 21-year-old woman lost her left arm in a tragic accident but her spirit for life is not at all lost. Lauren is widely being praised online for her 'happy go lucky' attitude towards life.
Lauren put up a hilarious Tinder profile which has now gone viral.
At the time of filling the details of Tinder, she must have had her funny side on the roll. The girl listed her job as 'arms dealer', while describing herself as 'hands down the best catch on tinder.'
She hilariously awarded herself points category wise which are - face 10/10, body 9/10, personality 20/10 and arms 1/2.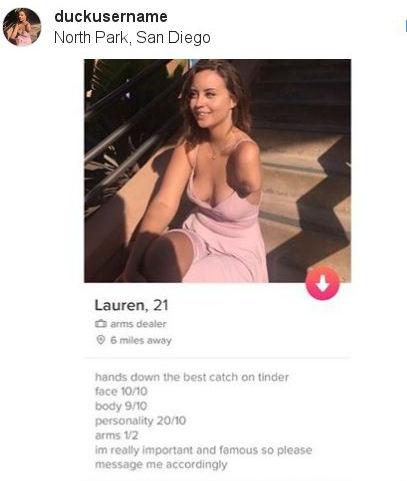 Lauren on Twitter goes by @DuckFanAccount. It can rightly be said that girl has not only won Tinder but also rules Twitter now.

Check out some of the best reactions:
I want to marry her? Like right now https://t.co/HkAphD2riy

— Jeremy Wolfe 🌐 (@jerrrbearrrrr) August 10, 2017
hahahaha this girl won tinder https://t.co/9rfgcLlORN

— housecat ⏩ IMF, DBCO (@JobieWanKenobii) August 9, 2017
I can already tell she has the best personality by her job title pic.twitter.com/uyK7DJCN0M

— meme god (@MEMESG0D) August 8, 2017
I could definitely marry her

— Mr PSG 1825 (@Mr_PSG_1825) August 9, 2017