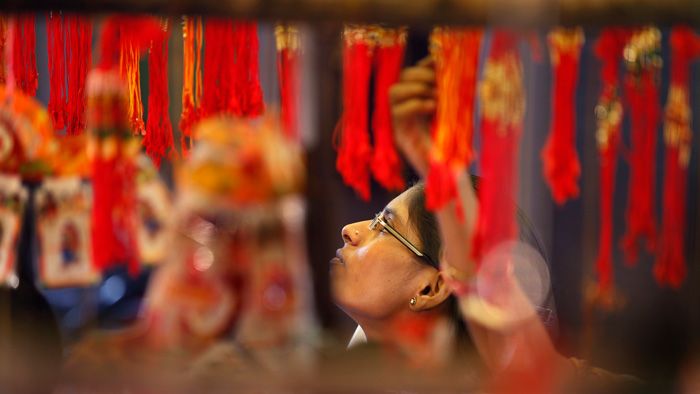 My cousin, the same one I played Max Payne with back in 6th grade, got married this March. Our families live in the same Bengali infested colony of Delhi and yet, the last I met him was at his wedding. That is until today.
The two rakhis I tied this morning were on his wrist and on my 'Rakhi brother's' wrist. The latter I see quite often, mostly because we gravitated towards each other among a sea of people back in school and later, college.
One I chose to adopt as my brother, and the other smiled at my crib when he saw me first, armed with his favourite fruit in hand - oranges.
So what does Raksha Bandhan mean to me? As a child I often wondered why my classmates made so much money off their brothers, while I received a simple Dairy Milk, year after year. My sister and I often complained about this, till it hit me one day. How can he give me money he doesn't earn? And why must he? - Both rhetorical questions, of course.
The sacred
Hindi essay competitions apart, there wasn't much I had read or written about Raksha Bandhan till then. Raksha means to protect and bandhan means bond, they said. But who protected whom, and why was it such a one-way street? The more I read, the more messed up it seemed. I was in college, on one hand studying literature and the likes of Virginia Woolf, and on the other hand I was, on one particular day of the year, asking for my brother's 'protection'.
As an elder sister to my 'Rakhi brother', I often found myself discussing his future plans with him, dropping him to college, showing up/promising to show up for his gigs; all this without needing his promise (or money) to protect my 'honour' or whatever garbage our culture demands on this day. Yes, I dare to call it garbage, because fortunately for me, we're perfectly healthy and functional a duo minus the raksha.
As for my cousin, as his only little sister in our close-knit family, he could have easily chosen to patronise me, but he didn't. We know much about each others' college lives and teenage confusions we needn't bring up, and that's fine. We hug, I start tying the rakhi, he makes a joke about how I have no hand-eye coordination while attempting to tie rakhis, he eventually fixes the knot himself, and we move on with our lives, and repeat. Dairy Milk or cash, it really doesn't matter.
The scared
A tilak and kurta sporting colleague appeared quite frustrated while lamenting over the money he had to fish out earlier today. Another friend of mine packed his bags and left home pretending to catch a flight this weekend. He is hiding at a friends' house a few kilometres away from his home, fearing the money-hungry 'sisters' on this day.
If you are a woman who does this, rethink. You don't need to sell your ability to protect yourself and 'gain' a lifetime of patriarchy. Instead, buy your brother a drink this year. You can afford it.
In fact, the whole 'protection of honour' business in India has often ended in brothers killing their own sisters for they considered them better off dead than with a man they disapprove of. 'Money gained, right to pick partner lost' isn't the best way to go, for sure.
The kindred
Let the festival be about siblings - brother-sister, brother-brother, sister-sister - who love, cherish and give space to each other. Let it be about catching up after a while, taking a break from work, and gossiping about partners.
Let Raksha Bandhan not be so heavy with tradition, for it is indeed special. But the reasons why it's special would never appear in my 2nd standard Hindi essay. And that's a good start.