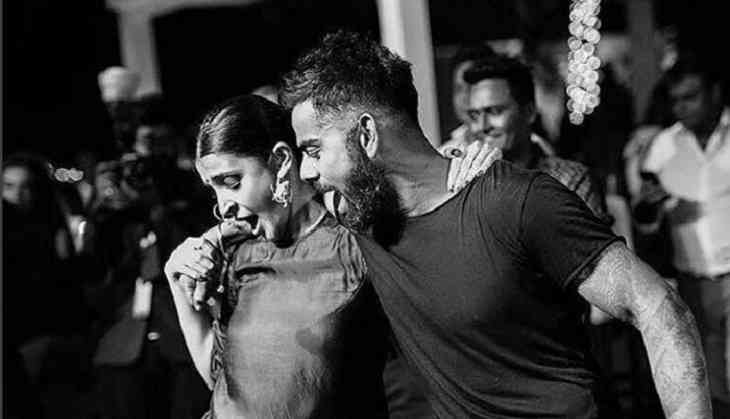 Team India captain Virat Kohli and Bollywood actress Anushka Sharma finally married on Monday after a long love affair. Virat and Anushka took seven rounds with each other in Borgo Finocchieto, a luxurious hotel located in Tuscany, Italy.
Anushka and Virat Kohli on 9 o'clock in the night, shared their marriage photographs on social media and ended the suspense forever. As soon as Virat and Anushka posted the photo of the wedding on social media, celebrities from across the world started extending their congratulatory wishes to newly wed couple.
At this most special moment of both the countries, their loved ones and well wishers from all over the world started giving their best wishes. On this occasion, the United Kingdom-based condom maker Durex also greeted them with best wishes. Durex also campaigned for the pretense of congratulations.
Finally, Virat Kohli bowled his maiden over. #VirushkaKiShadi pic.twitter.com/skZWdcn20y

— Durex India (@DurexIndia) December 12, 2017
People greeted the message as soon as these greetings came in the social media. People praised the way condom company congratulated the couple. There are many people who are enjoying seeing these messages. Such users also started writing on Twitter. But few does not liked the Tweet and started lashing out Durex.
Here is how people reacted on Twitter:
Most Savage Marriage Compliment ever given to them.....

— Ashmit Khare (@OldDrunkenMonk) December 12, 2017
Can you post such tweets before 6PM?

— Numbyaar (@NumbYaar) December 12, 2017
Ban is from 6 pm to 10 pm ... And its 1 Pm

— Uncanny (@deepakasopa1512) December 12, 2017
Ban is from 6am to 10pm. Not 6pm pic.twitter.com/YG6IuBh9vI

— Arctic Monkey (@ArcticMonkey009) December 12, 2017
@equilibrist_sny ye wala sabse sahi hai..

— Amritanshu Ankit (@AnkitAmritanshu) December 12, 2017
@equilibrist_sny ye wala sabse sahi hai..

— Amritanshu Ankit (@AnkitAmritanshu) December 12, 2017