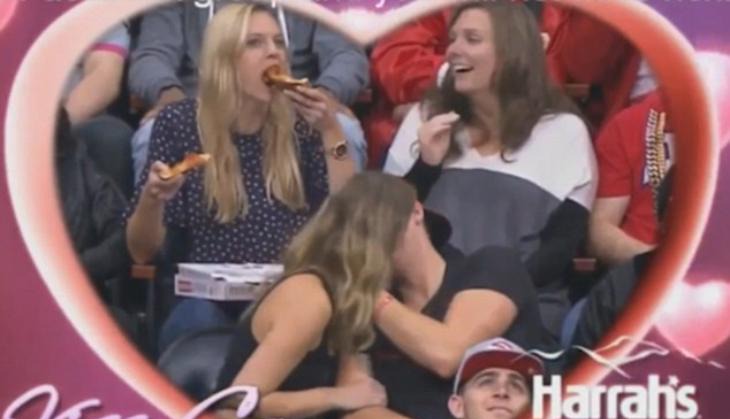 The world at large is currently jealous and in awe of this beautiful young lady at the Atlanta Hawks NBA game. You may wish you had your life and likes as sorted at this lone hero in a packed stadium once you've seen this video. Hopefully on loop.
At the Atlanta Hawks vs Boston Celtics game last night, the latter may have taken home the winning prize, but for social media, Kiss Cam Pizza Lady is the true hero. A regular Batman without the cape, so to speak. When the Kiss Cam - a largely abhorrent practice where two people are literally coerced into kissing - zoomed in on a couple, little did anyone know that the focus would not be the two kissing, but a girl sitting behind slaying a pizza. Undeterred by the camera or the people watching, she had a pizza slice in each hand, and kept munching on BOTH at once with much enthusiasm. 
This is what true love's all about. 
Watch: 
A LOT going on in the Kiss Cam from Atlanta tonight... pic.twitter.com/lVJ0HbLnwe

— UPROXX Sports (@UPROXXSports) April 20, 2016
--
Edited by Abha Srivastava
Also read: