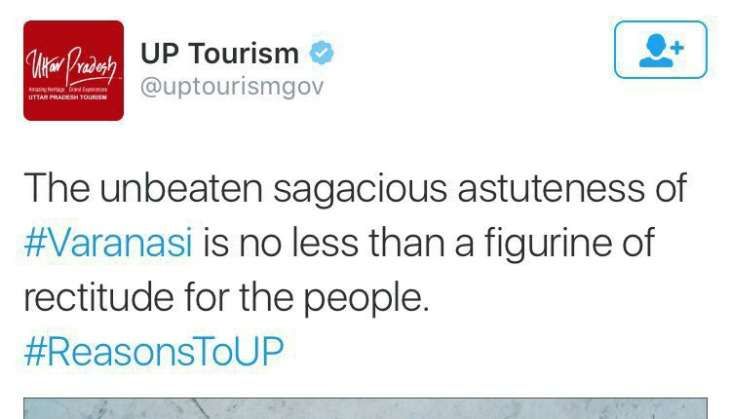 Uttar Pradesh Tourism just discovered the joys of a thesaurus and the internet is freaking out. A short while ago, the state's tourism department's official Twitter handle shared a photo with what they obviously assumed was a well-thought out #ReasonToUP.
Sadly, this is what the poster said: Seizure the quietude engraved in the transcendent aura of Varanasi.
And these were the immortal words used to caption the poster: The unbeaten sagacious astuteness of #Varanasi is less than a figurine of rectitude for the people. #ReasonToUP
5 questions, UP Tourism:
1) What is 'seizure the quietude'?
2) What is 'unbeaten sagacious astuteness'?
3) What is 'figurine of rectitude'?
4) How much does that social media executive job pay?
5) Are you hiring? How do we apply?
The tweet has now been deleted but Twitter has responded the way it evermore does in the face of prodigious documentation of denseness:
By the time I understood @uptourismgov's twt... pic.twitter.com/TQ8mCuVMGh

— cid inspector (@Oinkoo) August 11, 2016
Looks like UP Tourism just cracked a perfect score in GRE verbal section, and wants to show off 😊 https://t.co/qByyUL1Shd

— Amit Paranjape (@aparanjape) August 11, 2016
No wonder I've felt so sagacious my serene since I visited. Wish I could understand my psyche like UP tourism can https://t.co/MUMpYyg6bc

— Rana Safvi رعنا राना (@iamrana) August 11, 2016
When you want to top GRE but end up becoming the curator of UP Tourism account. pic.twitter.com/zkSuz076Rm

— The-Lying-Lama (@KyaUkhaadLega) August 11, 2016
This is outstanding. We need to make #FigureOfRectitude trend! Well done @uptourismgov https://t.co/adnTs42hJJ

— Vinay Aravind (@vinayaravind) August 11, 2016
And I wouldn't be surprised if UP tourism used Google translate https://t.co/7KHyp5wjSe

— Rana Safvi رعنا राना (@iamrana) August 11, 2016
@NischReddy mind-blowing no? or should i say cranium-detonating? @uptourismgov

— Vinay Aravind (@vinayaravind) August 11, 2016
I try very hard to not laugh at bad English usage. But mother of god that UP tourism thing was unbearably funny.

— Sitter of Fences (@sidin) August 11, 2016
The lexical luxuriance embodied in this tweet is a testament to the adroitness of the wordsmith who whittled it. https://t.co/KZrtgobGMU

— Rahul Roushan (@rahulroushan) August 11, 2016
--
Edited by Aishwarya Yerra