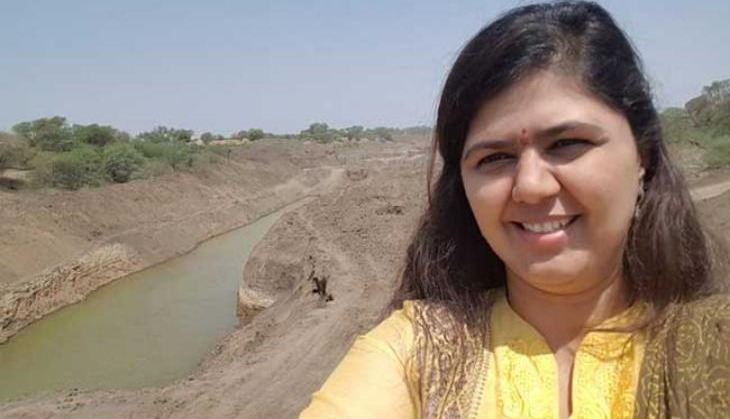 Pankaja Munde, the Minister of Rural Development and Women and Child Welfare, Maharashtra, is in the eye of a storm for a selfie she took while on a tour of drought-hit Maharashtra. She was in Latur when she took a selfie with mounds of parched land behind her.
BJP was still trying to live down the recent controversy of the Maharashtra Minister who had insisted on a special helipad for his chopper, leading to the wastage of 10,000 litres, when the state government landed in this new controversy.
Talking to ANI, Shiv Sena leader Manisha Kayande said, "Maharashtra is facing severe drought in the state. Women and even kids are going far away for getting water. Even the Shiv Sena is also doing lot of work in those drought-hit areas. And in such a serious situation, the ministers are clicking selfies."
Congress, too, issued a statement saying that the "BJP, as a whole, is a selfie and optics party, this is like making a mockery of the drought."
The site Munde was reviewing is one of the worst-affected areas in Sia Bandhara village in Latur. With the completely-dry river Manjara as her backdrop, the minister tweeted several photographs talking about the efforts taken by the government for 'water conservation'.
I'm surprised the BJP hasn't offered Pankaja Munde's children ministerial positions yet, considering they're so against dynasty politics.

— lindsay pereira (@lindsaypereira) April 18, 2016
Why do you expect Pankaja Munde to be sensitive, Humane, Empathetic or sensible?

What's wrong with you? https://t.co/svgDZ06Lfc

— Abhinav AAP (@AbhinavAAP) April 18, 2016
Pankaja munde, water conservation minister of maharashtra takes a selfie while reviewing d drought situation. SHAME pic.twitter.com/uZ9uBY0nmb

— Rana Ayyub (@RanaAyyub) April 18, 2016
Pankaja munde drought selfie-All u guys have got it wrong.Ma'am is promoting 'drought tourism'.What a visionary leader.tourist will now pour

— Sarvesh Kunkolienkar (@sarvesh_rsk) April 18, 2016
Pankaja Munde showing the poor farmers how to download Kisan Suvidha App on a phone that's bigger than their house. pic.twitter.com/J662COmLIZ

— Shirish Kunder (@ShirishKunder) April 18, 2016
Pankaja Munde took a drought selfie? Something that clearly needs a chullu bhar paani

— Madhavan Narayanan (@madversity) April 18, 2016
After Jumlababu, Pankaja Munde proved that selfies are directly linked with Narcissism and Mental illness. #Drought pic.twitter.com/AK6pgp447G

— Siona Gogoi (@siona_gogoi) April 18, 2016
Even as Shiv Sena, Congress, and social media were criticising the minister's logic-defying move, she came back with a stunning justification that is sure to cause temporary speechlessness to anyone who reads it.
This pics are work done by govt n ppl participation it's my dept n I was working from day 1sence of satisfaction if it rains we are ready

— PankajaGopinathMunde (@Pankajamunde) April 17, 2016
Ummm.. what?
Selfie with trench of said barrage Manjara .. one relief to latur .. pic.twitter.com/r49aEVxSSk

— PankajaGopinathMunde (@Pankajamunde) April 17, 2016
Water conservation is happening massively ...isn't it "sawedana " for "duskhal" pic.twitter.com/HbDMkxtxaA

— PankajaGopinathMunde (@Pankajamunde) April 17, 2016
2 selfie with bandhara pic.twitter.com/OKFeyT3OPS

— PankajaGopinathMunde (@Pankajamunde) April 16, 2016
Considering that the late Gopinath Munde's daughter, Pankaja is the guardian minister for Latur and Beed, where lakhs of litres of water have been transported in recent weeks, this move seems even more insensitive. 
But to have justified her now-viral selfie by saying it is to showcase the 'work' done by her government, Pankaja Munde pretty much walked into the open arms of the trolls. 
--
Edited by Aishwarya Yerra