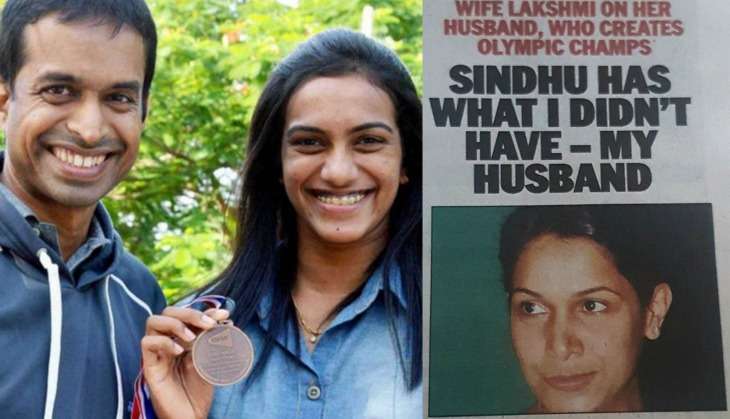 Hey Mumbai Mirror, we get that you're a tabloid. We get that numbers are important. We also understand why you seem to think that sleazy content gets more traction. But this was totally unnecessary and uncalled for.
Lakshmi Gopichand, who represented India in the 1996 Olympics, now trains shuttlers along with her husband, Pullela. Together, they run a prestigious badminton academy in Hyderabad that has brought India much glory, many medals and a whole lot to be proud of.
Talking to Mumbai Mirror, a mistake in retrospect, after Sindhu's iconic win, Lakshmi said: "The idea is to provide today's generation what we didn't have. Sindhu has what I didn't have back then - my husband as a coach".
While writing the headline, someone decided to do away with the "as a coach" bit.
How or why MM decided to take this quote and twist it till it resembled a line from a K-serial is unfathomable.
One can only assume there were no sober editors to be found when the paper was being sent to print.
Since you don't get it, Mumbai Mirror, we'd like to spell it out for you. Lakshmi is wholeheartedly backing her husband and his ability to turn amateurs into world class badminton players. And she is just as proud of Sindhu as the rest of us.
If you like to stay away from conflict areas, you might want to avoid Twitter today:
Is @MumbaiMirror losing their mind? This is really gross and wrong on so many fronts. https://t.co/BWpM7Mqftj

— Brown Sahiba (@Rajyasree) August 22, 2016
Journalism?? Headline vs content on the front page of #mumbaimirror @AbhinandanSekhr pic.twitter.com/PiOLYD5tbW

— Archana Singh (@archsing74) August 22, 2016
Mumbai Mirror. What an idiotic headline. You really should be ashamed. #ShameOnTOI @vineetjaintimes pic.twitter.com/pElPHxTboO

— Jaini (@manichejain) August 22, 2016
The Mumbai Mirror — Everyday SoapOpera Sexism https://t.co/WsaUOjFl79

— Harini Calamur (@calamur) August 22, 2016
Mumbai mirror should be used to soak up extra oil from roadside Bajji. https://t.co/nwJPa0XLjx

— Avani (@avanidhar) August 22, 2016
Writer: "We have a quote from Gopichand's wife about what a great coach he is; any headline ideas?"
Mumbai Mirror: pic.twitter.com/AnRSne9miw

— Rohan (@mojorojo) August 22, 2016
---
Edited by Blassy Boben