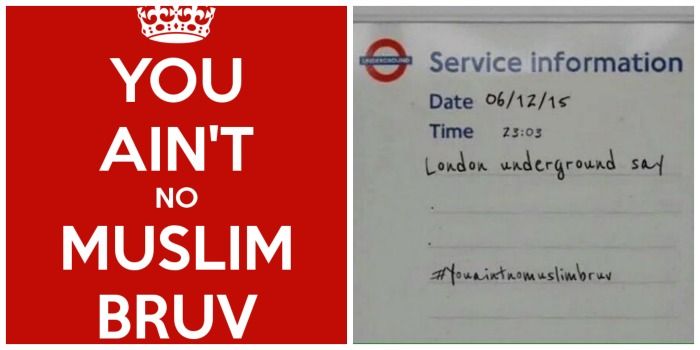 On 5 December, a 29-year-old man stabbed and injured three commuters at London's Leytonstone subway station, shouting that "it was for Syria".
A witness who filmed the horrific scene yelled back: "You ain't no Muslim, bruv".
Londoners show their support for victims and their stance against islamophobia by trending #YouAintNoMuslimBruv pic.twitter.com/vzKsq4VuEX

- My Daughter's Army (@mydaughtersarmy) December 6, 2015
With the entire exchange on camera, it was only a matter of time before social media picked it up and showed it love. In a few hours, the bystander's angry retort had turned into a war cry. In the wake of a spate of acts of terrorism fuelled by religious fundamentalism and increasing hostility towards Muslims across the world, #YouAintNoMuslimBruv has got to be the most heartwarming hashtag to have gone viral recently. By Sunday, thousands had sent out tweets in support, in brotherhood, in agreement that no religion should be linked with acts of terrorism. That no religion condones violence, that Islam has nothing to do with the 'war for jihad'.
"You're not a Muslim, bruv. You're an embarrassment." Passerby gets the last ten years down in a sentence. #YouAintNoMuslimBruv

- Matt Kelly (@mk1969) December 6, 2015
#YouAintNoMuslimBruv Powerful words spoken by someone who recognises Islam to be a peaceful religion

- Kat Edwards (@kittykatalena) December 6, 2015
#YouAintNoMuslimBruv is my favorite hashtag this year. Put the bigotry aside and stop blaming an entire religion for the actions of a few.

- Malak Shafik (@MalakShafik) December 6, 2015
I'm Muslim and my mum gets mad if I harm a spider. Islam teaches peace. #YouAintNoMuslimBruv

- Mirakool Jay Jaziah (@ImMirakool) December 6, 2015
Anyone who screams "this is for Syria" & stabs innocents is 1) an evil sociopath 2) acting politically not religiously #YouAintNoMuslimBruv

- Dr.SayedANakshawani (@SANakshawani) December 6, 2015
#YouAintNoMuslimBruvIf you are a terrorist, you arent a muslim, a christian, a hindu or a buddhist. No religion promotes violence

- Wasay Ashraf (@WasayAshraf) December 6, 2015
Sometimes I am SO proud to be a Londoner. #YouAintNoMuslimBruv

- Chimene Suleyman (@chimenesuleyman) December 6, 2015
The guy who shouted "you ain't a Muslim Bruv" was a Muslim him self . This says a lot. We don't support terrorism! #YouAintNoMuslimBruv

- Pakistani Jams (@p4k1j4ms) December 6, 2015
Proud of my country today and thinking of getting one of these on a mug #YouAintNoMuslimBruv pic.twitter.com/tO7g9OkgYB

- Sam Wilkin (@MrSamWilkin) December 6, 2015
I love this#YouAintNoMuslimBruvIt shows that people are finally understanding that Islam and terrorism do not go hand in hand.

- Ethan Shewchuk (@Ethan_Shewchuk) December 6, 2015
Message from #LondonUnderground to all is #YouAintNoMuslimBruv pic.twitter.com/NKqW51t2aq

- Ahmad Shaheen (@AhmadShaheen) December 6, 2015