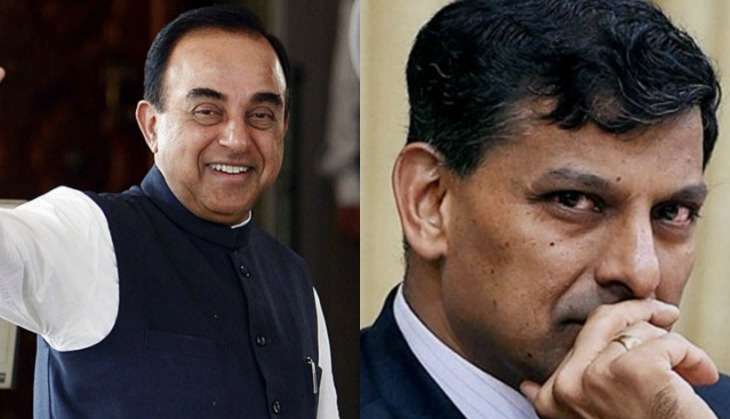 Even as BJP leader, and supreme free thinker Subramanian Swamy launched a fresh attack on Reserve Bank of India Governor Raghuram Rajan, social media decided it had had enough.
According to PTI, Subramanian Swamy has asked Prime Minister Narendra Modi to start a CBI-led probe against the popular RBI chief for allegedly "flouting rules while granting 10 small finance bank licences".
Swamy, a Rajya Sabha MP, had earlier sent a written petition to the Prime Minister to dismiss Rajan after he "failed to lower interest rates and boost the economy".
Rajan on the other hand has refused to retaliate to Swamy's constant vitriol.
Twitter, however, is bound by no such constraints or good manners. So when #WhyRajanMustGo trended this morning, after being obviously boosted by Swamy's supporters, Twitterati took it up with gusto and made the hashtag their own.
#WhyRajanMustGo B.coz. Iliterate Clowns wearing indecent shorts & LATHIS have decided to take control of Financial Sector if this country.

— Rasputin (@IndianCzar) June 16, 2016
#WhyRajanMustGo?
Because Modi-fied India needs entertainment, not economics, so an economist who is not a Virat Hindu Event Manager must go.

— Sushovan Chaudhuri (@mesushovan) June 16, 2016
#Twitteratis no consultant in economics but see them howling like wolves #WhyRajanMustGo @swami39 @RBI @narendramodi .

— DR TUSHARKANTI NAYAK (@DRTKNAYAK) June 16, 2016
#WhyRajanMustGo is a question I can't answer, for my cognizance of economics is zilch; but @Swamy39 sure has some swagger school of thought.

— Vaishnavi Ray (@VanillaGarlic) June 16, 2016
#WhyRajanMustGo because we want to keep only chamchas as heads of every institution. #RaghuramRajan is not one. https://t.co/B1ey0urz70

— bhageerathi (@bhageeerathi) June 16, 2016
The iron-clad logic of the other side
Dear All,

trending now#WhyRajanMustGo

to support Dr. Swamy to get India better Governnor, Who is not a congress stooge

— #Swachh #भारतवर्ष © (@MahikaInfra) June 16, 2016
Simple reason , he stood by d most corrupt FM Chidambram & did not take timely hard decisions to curb inflation. #WhyRajanMustGo

— UTTRASHADA (@uttrashada) June 16, 2016
--
Edited by Blassy Boben