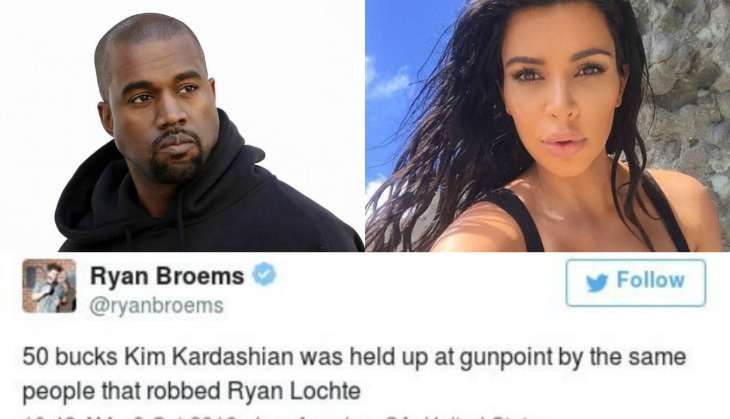 Reality TV moghul Kim Kardashian West, who is married to rapper Kanye West was robbed at gunpoint in her hotel room in Paris on 2 October. The robbers were reportedly masked and dressed as policemen. Kim is in France for the ongoing Paris Fashion Week with sister Kourtney, mom Kris and her two kids, Saint West and North West. Nobody else but Kim was reportedly in the room when the incident took place.
While there is no one version of the event, it is believed that jewellery worth millions was stolen.
"She is badly shaken but physically unharmed," Kim's representative told E! News, even as Kanye left a concert in New York midway to rush to Paris.
Cool, make jokes about Kim Kardashian being held at gunpoint, cool way to talk about a real woman and daughter and mother, cool

— Sinead Stubbins (@SineadStubbins) October 3, 2016
you don't have to like kim kardashian but don't be saying ur thankful and glad that she was held at gunpoint... have some common decency

— antonio (@antoniodelotero) October 3, 2016
While fans of the Kardashian empire expressed concern and horror at the news, tasteless jokes and opinions of a few cynical people are doing the rounds. Did Kim do a Ryan Lochte in Paris?
Twitter's rather divided.
50 bucks Kim Kardashian was held up at gunpoint by the same people that robbed Ryan Lochte

— Ryan Broems (@ryanbroems) October 3, 2016
Found the robber @KimKardashian 🐍🐍🐍 pic.twitter.com/XPx4wtmHxu

— Carlo Miguel (@MIGGGGA) October 3, 2016
Kim Kardashian was robbed at gun point. Police are going through the 3759 selfies she took during the ordeal, trying to get a discription.

— Tim Hanlon (@TimfromDa70s) October 3, 2016
"Kim Kardashian was robbed at gunpoint"

You know who else was robbed at gunpoint? pic.twitter.com/acy9nrHVLv

— Abraham Cavazos (@abraham_cavazos) October 3, 2016
Kim Kardashian: 'I didn't even have time for a selfie with the robbers' https://t.co/MwI5FHHwIF

— Simply Irredeemable (@hrhjmm) October 3, 2016
current stress level: when Kim Kardashian lost her $75,000 earring in the ocean

— ㅤㅤ (@reliabIy) October 3, 2016